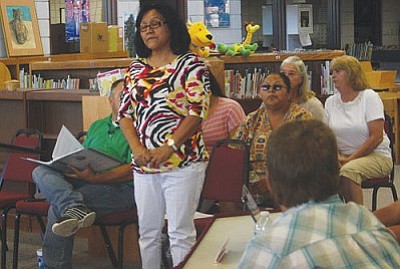 Originally Published: June 13, 2013 2:17 p.m.
CAMP VERDE - Ron Romero resigned last month. That has left a school district and a Native American community with a quandary and an opportunity.
The situation was the center of a meeting between the Camp Verde Unified School District and the Yavapai-Apache Nation Tribal Council on Tuesday. Romero was the Native American counselor. Much of his salary package was paid with a $33,000 Title VII grant.
Now the school and the council must decide the future of that grant money. The discussion also highlighted how relations have changed during the last 30 years between tribal members and the school district.
Steve Hicks, the school's Business Services director, said the counselor's tasks involved "tracking and monitoring students test scores and progress and working with Johnson O'Malley students."
The Johnson O'Malley (JOM) program addresses cultural needs of Native American students through a supplemental program of services.
Council member Monica Marquez said the JOM tutors could collect the same data the counselor had been tracking, freeing up grant money for other things.
Instead of continuing Romero's former position, the board and the council shared ideas for cultural education, health education, small groups for reading and writing, focusing on elementary grades or putting more emphasis on helping high school students.
Hicks said the district has been approved for the same amount for the coming school year. The wording in the grant is broad, he said, allowing for many educational possibilities.
Council Vice Chairman Robert Jackson Sr., while saying the council needs to talk about the issues among themselves before a decision is made, said he would favor language and culture classes in school.
"I see great possibilities for that," Board President Helen Freeman responded. "It would be enriching non-Native education as well." Board member Christine Schneider agreed that giving the Native American students the opportunity to "talk about their history, about their family and their people" would give them a feeling of importance.
Council member Dave Kinsey Jr. said it was "not so much the feeling special as them knowing themselves."
Chairman David Kwail said reading and math still need to be the focus, especially in the younger grades.
JOM Manager Leona Wathogoma said attendance also needs attention, something Administrator-in-Charge Amber Lee said had been a theme for a long time.
"It's going to be everything that needs to be worked on to get our kids up to par," Kinsey said.
According to council member Tanya Lewis, there are cultural issues at play when it comes to truancy. She said family always comes first among the community, taking priority over school in difficult circumstances. Often when a grandmother or mother is ill, the child will stay home to help take care of her.
"And when they're behind, they don't want to come to school. They're embarrassed," Wathogoma said. She said the YAN also needs to talk about more parental involvement.
Board member Bob Simbric said getting students to come to school is about finding their interests and incorporating that into their school experience. "Every kid likes something," he said, calling up his experience as grandfather of sextuplets, "a social experiment."
Simbric also advocated for putting money in K-6 education, when the students are "sponges."
"If you have a poor start, you almost never catch up," he said. Council members touted the YAN's strong Montessori school.
Council member Lorna Hazelwood recalled going to Camp Verde High School many years ago when it was extremely difficult to be in a minority community. She said she still sees some of those cultural tensions. "I made it through, but it was not easy when our numbers were so small."
Simbric also remembered those years and said a lot of society attitudes had changed since then.
"We're caught in two worlds," Jackson said. "We have to get caught up in the dominant society if we want to succeed."
The discussion came on the heels of a presentation by Wathagoma and the JOM tutors, who discussed the success of their students during the past year.
The council will continue to discuss the issue at its next meeting and will bring recommendations to the school board. Hicks said the district can amend the grant in August.
More like this story