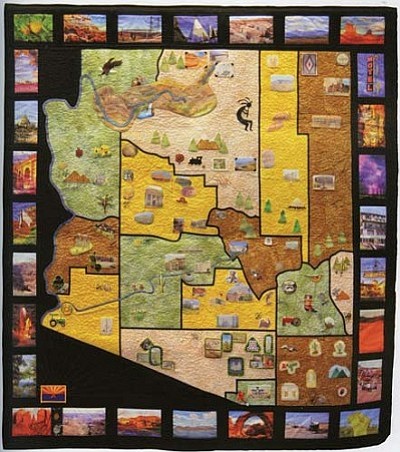 Originally Published: June 17, 2013 4:58 p.m.
Sedona Heritage Museum hosts Arizona Centennial Quilts exhibit
Through September
The Sedona Heritage Museum is hosting a selection of quilts from the Arizona Centennial Quilt Project, now through early September 2013. Three of the quilts are by Yavapai County quilters, including a quilt designed like a 'balloon' lettered vintage postcard. Other quilts feature a crossword puzzle of Arizona terms, a quilt begun in the 1930s but not completed until this project, a quilt by a Hopi quilter from First Mesa, a quilt by a Brownie girls scout troop, and several 'art' quilts that celebrate different themes of our state.
The Society Historical Society operates the Sedona Heritage Museum in Jordan Historical Park at 735 Jordan Road in Uptown Sedona. For more information, call 282-7038 or visit www.sedonamuseum.org.
Book signing and quilting class
June 17-19
Quilters Quarters and Bernina Too / Mary Beth Groseta will present a Book signing and Quilting Class by Jane Tenorio-Coscarelli of Quarter Inch Publishing, taking place at 51 Verde Heights Drive, Cottonwood. A Book Signing will be Monday from 6 to 7:30 p.m. and Quilting Class featuring "The Tamale Quilt" on Tuesday and Wednesday from 9 a.m. to 5 p.m. on both days. Sign up is required.
Those interested may contact Quilters Quarters and Bernina Too at (928) 634-8161.
Cross Marketing Strategies for Artists
June 20
Most artists create because it's what they absolutely love to do. Whether they are a painter, ceramist, or photographer, selling their art is usually an after-thought. In today's market, very few artists are able to rely on a gallery or some other business organization to do their marketing for them. The artist must be willing to take care of the business of promoting their own art, and also navigate the world of digital marketing. On Thursday, June 20, at 6 p.m., Mike Upp will present Cross Marketing Strategies for Artists, and hold a discussion on one of the most common dilemmas facing any working artist today at the Sedona Visual Artists' Coalition's June General Meeting. SVAC Member Meetings are held at 54 Bowstring Drive, located off Hwy. 179 just north of the Morgan Road roundabout. All artists, and members of the public, are welcome to attend.
For more information about SVAC, visit the website at: http://sedonaartistscoalition.org/, contact president@sedonaartistscoalition.org, or call (928) 239-9967.
Sabbath at JCSVV
June 21
Shed the tensions of the week, and enter the peace of the Sabbath at the Jewish Community of Sedona and the Verde Valley. Friday, Erev Shabbat services begin at 7:30 p.m. led by Rabbi Alicia Magal. Oneg refreshments are sponsored by Chaya Miriam (Linda) Colodner in honor of her birthday and the anniversary of her taking on her spiritual name. The Shabbat service is a joyous journey of prayer, song, and rabbi's teaching. All are welcome to join our community.
Visitors are most welcome to visit the synagogue, and can have a tour of the award-winning building from 10 a.m. to 2 p.m., Monday - Friday. For more information call the office at 928 204-1286 or visit www.jcsvv.org.
Diabetes and eye conditions
June 24
"Diabetes and Eye Conditions" is the topic of the June Diabetes Support Group, sponsored by Verde Valley Medical Center's Diabetes Education Program. The free support group is 5-7 p.m., Monday in VVMC's Conference Rooms B and C, 269 S. Candy Lane. The group is open to all members of the community. Please R.S.V.P. to 928-639-6346; walk-ins welcome.
Summer Basketball Skills Clinic
June 24-Aug. 7
Camp Verde Parks & Recreation announces a Summer Basketball Skills Clinic with Coach Mamie Fox. Designed for boys and girls entering grades 1-6 this program will help players improve their basketball skills. Practice ball handling, offense, defense, shooting and techniques to improve your game. The clinic is Mondays and Wednesdays 6:30-8 p.m. starting June 24. Cost is only $15 per child for 12 sessions. Learn the rules, definitions of court details and strategies to help your team win! Excellent preparation for Grasshopper Basketball this fall or getting ready for school tryouts. Have fun, learn skills and take your game to the next level! Register at Camp Verde Parks & Recreation 395 S. Main St. Camp Verde. For more information call Michael Marshall at (928) 554-0828 or check the website www.cvaz.org.
Israeli Scouts perform at JCSVV
June 26
The Israel Scouts Friendship Caravan will be visiting Sedona on Wednesday at 7 p.m. The Scouts bring a song and dance extravaganza in their 10 weeks in America. Friendship Caravan consists of five male and five female Tzofim (Israel Scouts) who are entering their senior year of high school.
The Caravans travel throughout North America each summer as emissaries, sharing their lives in Israel through song, dance and story. Participants are chosen after undergoing an extensive auditioning and interviewing process, ensuring that above all, they are true representatives of Israeli culture and spirit. The Tzofim Friendship Caravan typically reaches over 35 states.
There is no charge to attend the performance. Their visit is sponsored by the Jewish Cultural Committee of the JCSVV with the help of Jenni and Ron Goldman and their family. For more information call (928) 204-1286 or visit www.jcsvv.org.
Oh My Aching Head
June 26
"Oh, My Aching Head" is the topic of the June Take Note Cottonwood Lecture Series, sponsored by Verde Valley Medical Center (VVMC). The Wednesday discussion features neurologist David "Mark" Llewellyn, M.D. The lecture begins at 5 p.m. in VVMC's Conference Room B, 269 S. Candy Lane. Dr. Llewellyn will discuss the many different types of migraine, head pain disorders and headaches, as well as treatment options. To R.S.V.P. or for more information on this free event, call 639-6551.
Fox Trot Classes in Cottonwood
June 28
Liberty Performing Arts, 662 E. 89A, Cottonwood, is offering a Fox Trot class and dance on Friday starting at 6:30 p.m. Fee is $7 for the lesson and $5 for the dance, or $10 for both.
Take State Route 89A towards Jerome. Turn right just before Sixth Street (on Seventh Street at the "Bedrock" sign). Liberty is on the left. Call (928) 580-4975.
Call to sign up. Space is limited.
Fund-raiser for Connections Equine Therapy
June 29
Connections Equine Therapy Program is hosting a fundraiser at Cafe Jose in West Sedona (Safeway Shopping Center) Saturday from 4 p.m. until closing. All are welcome - Join us for excellent food, great company, and a ton of fun! Connections Volunteers will be busing your tables and will split your generous tips with the Café Jose staff. Connections is a non-profit organization offering therapeutic riding and other services designed to improve the health and well-being of our clients. For more information, call (928) 639-0791 or email Connections@commspeed.net.
Parent/Caregiver Early Literacy Workshop
July 17
Learn how to nurture pre-reading skills in your 0-5 year-old. Camp Verde Community Library is pleased to offer a special parent workshop, geared toward parents and caregivers of birth to five year-olds Wednesday from 9 to 10 a.m. Special guest, Rachel Lam, will demonstrate how to support early literacy development through Every Child Ready to Read @ your Library.
The Every Child Ready to Read Workshop immediately precedes the Wednesday program so please come early to secure a seat. The workshop is parent/caregiver-focused, but children are welcome. Please contact Peggy Schuler, Camp Verde Community Library Children's Librarian, for details at (928) 554-8387.
More like this story