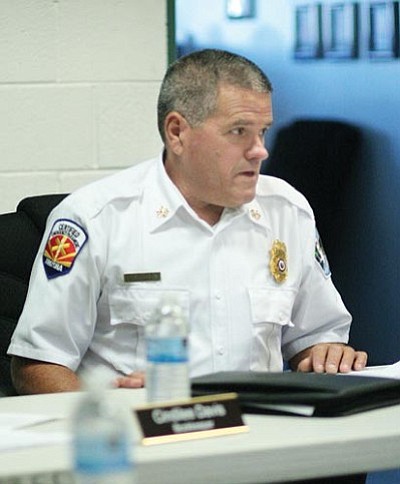 Originally Published: June 22, 2013 1:25 p.m.
RIMROCK - At Thursday night's Montezuma-Rimrock Fire District public meeting, the MRFD board confirmed that it will continue using Sedona Fire District for dispatch calls, at least until the 2014-15 fiscal year. Though work continues toward the development of a 911 Emergency Regional Communications Center in Cottonwood that would provide a closer dispatch option, MRFD Fire Chief Terry Keller says SFD has "a proven track record. It only makes sense for us to stick with a known entity.
"In our case, for now, we will stay with Sedona and re-evaluate later," he says.
Keller says it is best that MRFD work with a dispatch company that also services Camp Verde Fire District.
"It makes sense that we would try to stay with Camp Verde as well," Keller says. "It was my recommendation that we want to stay married up with Camp Verde since we run with them so much."
Despite a $47,443 decrease in Fire District Assistance, the MRFD board agreed to adopt the department's 2013-2014 budget, with an overall decrease of $27,443. Unlike local, state or federal budgets, which may or may not be balanced, the MRFD budget is always a balanced budget, Keller says.
Fire District Assistance, also known as FDAT, is provided based on service calls to assist out-of-county residents. The assistance is assessed and distributed by each fire district's county.
"We have to make [the budget] work," says Carol Keeton, MRFD boardmember. "You have to balance the budget. You can be under budget, but you cannot be over budget."
"We're hoping we can make [the FDAT decrease] up," Keeton says. "It is a lot of money to make up. We've already cut expenses to the bare bone. But Terry [Keller] is good at that. His specialty is financial control."
"We will continue to be prudent in how we spend money," says David Guth, MRFD board chairman.