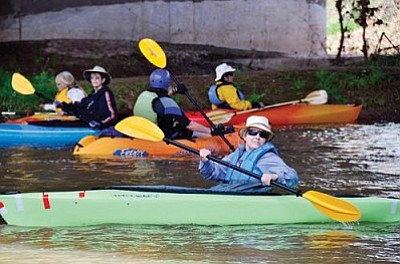 Originally Published: March 9, 2013 4:07 p.m.
The Camp Verde Chamber of Commerce and the Verde River Nature Organization are pleased to announce the 2013 Verde River Runoff Race & Festival, sponsored by S.R.P. and the Nature Conservancy. Everyone is invited to participate in the first river race of the season, a 10-mile race down the Verde River starting at 10 a.m. at the White Bridge and ending at Beasley Flat, on Saturday, March 23.
After the race, come to downtown Camp Verde, next to the Fort Verde State Park, and celebrate the river at the Verde River Runoff Festival featuring vendors, family fun activities, live music, community art and more, 10 a.m.-6 p.m.
To register for the race, and for more information, check out the website, www.verderiverrunoff.org, call (928) 567-7178 or email info@campverde.org.