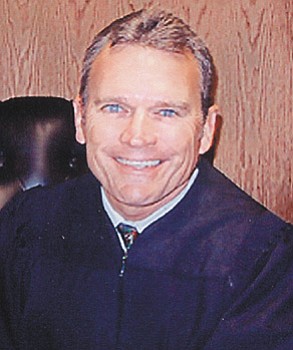 Originally Published: March 19, 2013 6:26 p.m.
PRESCOTTT--Presiding Judge David L. Mackey has announced his selection of Joseph C. Butner III as Judge Pro Tem for the vacancy created by the resignation of Judge Pro Tem Ethan Wolfinger.
There were 14 applicants for this position. Presiding Judge Mackey selected the successor for this position after interviewing finalists identified by a Selection Committee, reviewing applicant qualifications and considering public comment. When announcing his decision, Judge Mackey stated, "Judge Butner has the experience, dedication and energy to serve the citizens of Yavapai County well as a judge. Over the years, he has enthusiastically served as a Deputy County Attorney and judicial officer. His commitment to involvement in community events will keep him in touch with the needs of the citizens of Yavapai County."
Joseph Butner has been involved in the Yavapai County legal community since 1992. He served as a senior Deputy County Attorney from 1992 to 1999 and from 2003 to 2011. He held a four year term as the Verde Valley Justice of the Peace from 1999 to 2003. Most recently, he was the Chief Judge for the Yavapai-Apache Tribal Court and is currently a part-time Judge Pro Tem for Yavapai County. He also is very involved as a member of the Board of Directors with the Prescott Frontier Days Rodeo, is on the Board of Directors for the Verde Valley Senior Citizens' Association and is an avid member of the Camp Verde Cavalry.
Presiding Judge Mackey is requesting that the Chief Justice of the Arizona Supreme Court's formal appointment of Judge Butner be effective April 1, 2013 and the appointment is subject to the approval of the Yavapai County Board of Supervisors. Judge Butner will serve in the Verde Valley Judicial District.
Judge Mackey also stated, "I would like to thank the Members of the Selection Committee. I also would like to thank all the individuals who provided public comment to me on behalf of Joseph Butner and the other outstanding applicants."