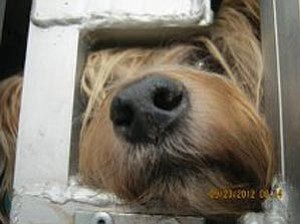 Originally Published: March 28, 2013 6:22 p.m.
The last thing Lisa Diacik is, is a dog catcher. Yes, Camp Verde's Animal Control Officer will catch your dog if it's wandering the streets of Camp Verde, but then her efforts will focus on reuniting you with your lost companion. ACO Diacik is an animal advocate with a long history of rescuing pets and finding them new homes. Lisa hails from New Jersey, where she and her husband, Steve, founded S&L Animal Rescue. Even after the Diacik's move to Arizona, their New Jersey team continues to visit shelters up and down the East coast. To date, they've rescued over 1,000 adoptable dogs from "kill" shelters and found them homes.
On a recent Thursday morning outside the animal Impound Base, a distressed citizen approached Lisa as she unlocked her Animal Control truck. "I'm losing my house and I need to find a good home for my Bull Mastiff," he explains, working hard to keep his emotions in check. Lisa recommends RescueMe.org. "It's a terrific site where you can find pets or try to find a new home for your pet," she tells the man. Treasured pets are collateral damage of the economy as more and more people lose their homes and become renters - no pets allowed. She also advises him to get in touch with Nadia Caillou at the Golden Bone pet shop - more about her later.
Pets that end up in Impound need not fear the "dogcatcher." Tippy is a typical customer. Abandoned in the parking lot, the brown Pit Bull Terrier mix was scared and confused. Patiently, Lisa sat in the dirt with her back to the terrified creature. Soon enough, Tippy tiptoed over, sat down and leaned into her. ACO Diacik brought the pup into a cool kennel, gave him food and water, and most importantly - reassurance that he was safe. She cared for Tippy over the next five days acquiring insights into the dog's temperament and training. He was an optimal candidate for adoption. But first, he needed to be neutered. Montezuma Veterinary Services shares their space with the Impound Base. There, Dr. Lan Holcomb helps Diacik with low-cost neutering and veterinary attention. Lisa has pursued grants from the Arizona Pet License Plate program. Her most recent grant, for $5,500, allows her to bring cats and dogs to the clinic for low-cost spay and neutering. They also host periodic Spay/Neuter clinics for the Town of Camp Verde. At the most recent event almost 100 pets were spayed or neutered.
After the required five-day stay in Impound, Tippy and Lisa headed to Cottonwood, where the Adopt for Life Center for Animals has a contract to accept animals from the Town of Camp Verde. Tame, neutered and up-to-date on his shots, Tippy was ready for a new home. As she settled Tippy into a new kennel, Lisa wished him luck. "I always give them a kiss on the forehead before I leave them," she confesses with a grin. "I'm thrilled and proud that since I started this job last May, we have not euthanized a single animal."
"Camp Verde is the busiest little town ever," Lisa notes after stopping in at the Camp Verde Marshal's Office to check in for assignments. "I have phenomenal bosses, both in Marshal Nancy Gardener and at the Code Enforcement Office. If I'm not feeling safe, I can call in for immediate back up. Pets are an extremely emotional matter. People can get defensive. It's draining sometimes. I know they have my back." Similarly, when Camp Verde Marshals encounter an animal in their rounds, they know ACO Diacik will respond quickly and efficiently. Her radio is her lifeline.
Diacik wears two hats for Camp Verde. She is both ACO and Code Enforcement Officer, alert for issues of concern to both offices as she drives through the community. She has handled over 130 code enforcement cases since May. Her Supervisor at Code Enforcement is Community Development Director Mike Jenkins and he's helping train Lisa on codes. "We needed someone who would be willing to combine both jobs," says Assistant Planner Jenna Owens. "Lisa's a perfect fit. She works with us like part of the family." In turn, the Planning Office understands that Animal Control takes priority. "Once I had to take 29 animals off a property," says Lisa. "They didn't see me at this desk for a couple of days."
Cruising through Verde Lakes, ACO Diacik spots a scruffy mixed-breed dog prancing near the road. She parks the truck as the property owner emerges and calls to the dog. The pup obligingly hops back through a hole in the fence and Lisa advises the owner he must patch up the fence and remove large piles of debris from the yard. She's been to the property several times and states that a citation will ensue from any subsequent code violations. "Education is our primary goal," she says. "I continuously tell people I'm not here to euthanize your dog or take over your property. I strongly encourage responsible pet ownership and try to help our citizens keep their pets safe, healthy, and hopefully - neutered." Indeed, Diacek carries a big box of informational material: flyers on safety, rabies, spay and neutering clinics, coloring books for talks at elementary schools and pamphlets announcing various community efforts. Before driving off, ACO Diacik hands the man a flyer about a "free dump day" in Camp Verde. "You can bring some of those larger items and dump them for free," she tells him. "And don't forget to fix the fence."
One of Diacik's top educational priorities is to convince people not to leave their dogs in a hot car. "Even a quick stop at the store can be deadly," she says. When she receives a report of "dog in car" she races to find the owner. One case involved a woman and her son who brought their dog along to greet 'dad' upon his release from jail. They had decided to stop at Basha's to get some snacks and left the dog in the car. Alert citizens called the Marshal's office. Lisa quickly paged the driver in the store and raced to free the dog who had become dangerously overheated. Because the family was obviously sorry about the situation and worried about their pet, Lisa used the occasion to educate them. In other cases she will break the window, rescue the animal and issue a citation.
Feral cats are another big issue for rural communities. "Though wild cats only live about two years," she notes, "they can produce many litters in that time." They are also a menace to birds. Lisa initiated a trap-neuter-release program for cats and obtained a grant to get it rolling. Since the program's inception, 25 cats have been "fixed" and released.
ACO Diacik's most exciting call-out involved an owl. She sped out to Salt Mine Road and spotted an owl standing motionless on the curb. She approached the raptor cautiously, donning leather gloves. "I was scared and excited," she says. "I had never had to grab such a wild animal before." Realizing that the bird had a broken wing, Lisa searched the Internet for help. She soon found a source and brought the owl to the Adobe Mountain Wildlife Rehab Center in Cornville, where it was treated and released.
Another favorite case involved a dog and a goat - on the lam - together. She found a local ranch to foster the pair while she networked to find them a permanent home. Again, the Internet proved to be a valuable resource. Lisa's plea for assistance went viral. Even Fox News picked up the story. "Eventually, a girl in Idaho saw a photo of the pair on Facebook, called her parents in Levine, Arizona, and a match was made," she exclaims. "That's an example of the power of social media!"
A regular stop on ACO Diacik's rounds is The Golden Bone pet shop on Main Street. Proprietor Nadia Caillou is a kindred soul, promoting rescue and advocating for animals. She is a primary source in the Verde Valley for linking homeless pets with willing owners. "We're the front line," says Nadia, who is also a popular columnist on pet matters in local newspapers. One of her many current projects is collecting big-dog harnesses for the dog walkers at the Adopt for Life Center for Animals. A new "project" is vying for Lisa's attention. He's a furry black pup named Ace, brought in by one of Nadia's many supporters. Hopeful that she can find a home for the sweet creature, Nadia knows that Lisa will be there as back-up if she can't. The women work well together, providing a safety net for Verde Valley pets.
Lisa recently accepted a spot on the Board of Directors of the Adopt for Life Center for Animals in Cottonwood. As a life-long volunteer for animal welfare, she jumped into the role of representing the AFLCA's volunteers. "We're all here for the animals," she says. "I want to bridge communities and do away with turf issues. We all want to facilitate adoptions, promote education and support our volunteers." The volunteers experienced her dedication immediately. She hosts regular meetings, assists with events, and supports the volunteers' efforts. Diacik is a hands-on problem-solver. Sometimes those hands belong to her husband, Steve, who recently "volunteered" to install a much-needed dog bathtub at the Center. She also coordinates with colleagues in Cottonwood and Clarkdale Animal Control, working to resolve issues that affect overall public safety and animal welfare.
A big part of Lisa Diacik's job involves public relations. "Times are hard and lots of people are close to the edge," she notes. "I want to help change happen and lighten the load. I tell them, 'I'm not here to ruin your day. We just need to talk.'" She created a pet-food donation program to augment the free food available to families each week at the Seventh-Day Adventist Church. "When the people in line for food saw the Wal-Mart truck pull up and unload bags of dog, cat, chicken and horse feed, you could see the relief on their faces," she says. "I could hear them saying, 'we can feed our animals now too'."
Stop after stop helps build rapport. Education and information are her primary tools, but she must sometimes resort to catch poles, bite-proof gloves, tranquilizer darts and officer back-up in the case of dangerous animals or angry pet owners. Despite the risks of being bitten by animals or assaulted by upset citizens, Lisa's personal foe is bad weather. "I give each situation the time it needs," she says. "If that involves sitting in rain and hail, waiting for a frightened dog to trust me, then that's what has to happen - but I don't like it."
Driving through the large rural community, Lisa waves to citizens and receives smiles and waves in return. A small girl in a yard waves enthusiastically - a veteran of one of Lisa's school chats. "They'll go home from school and tell their parents how to improve the lives of their pets," she says. "Or better yet, convince them to adopt a stray."
A week later, ACO Diacik pulls into the AFLCA parking lot with a new friend. Spotting a volunteer, she immediately begins her "sales pitch" about the huge dog emerging from the back of the ACO truck. "Neo is neutered and friendly, so he's adoptable right away," she says. "He can sit, shake hands and speak," she brags. The big Husky obediently sits, offers each paw, then yammers and yowls. She is angling for a spot in the Center's newer kennels for Neo, and she gets what she asks for. There, Neo will catch the eye of more people looking for pets, and hopefully find a home. Lisa will be back to check on him. In the meantime, per tradition, she leans over and gives Neo a kiss on the forehead. A little prayer goes out that the big guy will find a loving home.
Big event! Bikers and Friends - Join us for the 2nd Annual Cruisin' for the Critters on Saturday, May 4, 2013. Register starting at 10 a.m. at the 10/12 Lounge on Main Street, Clarkdale. Kickstands up at 10 am! Riders $20/Passengers $10 - all proceeds benefit the Adopt for Life Center for Animals in Cottonwood. Email Barbara@adoptforlifecenterforanimals.org for more info.