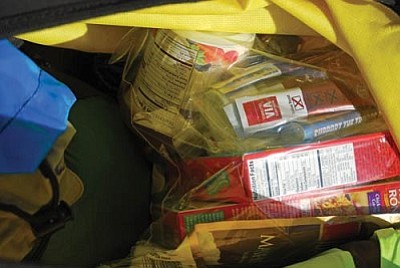 Originally Published: May 7, 2013 5:59 p.m.
They say that education is a journey, not a destination.
Gordon Williams' summer vacation will be both journey and destination. And likely an education as well.
On May 28, Williams, of Camp Verde, and his friend Mike Allen, from Cottonwood, will begin a 3,979-mile bicycle trek from Fairbanks, down the Stewart-Cassiar Highway in Canada, on through Montana, Wyoming, and Colorado, finishing at the South Rim of the Grand Canyon.
"There are long stretches in between towns," Williams says of the Stewart-Cassiar Highway. "There is a 99-percent chance that you will run into a bear each day.
"Cassiar is pretty spectacular," Williams says. "I'm looking forward."
Williams, a blacksmith by trade, is doing a three-day demonstration for the Association of Alaskan Blacksmiths. The 10-year Pieh Tool Anniversary Celebration and Demonstration in Anchorage is scheduled for May 24-26. The Association of Alaska Blacksmiths is paying both Williams' and Allen's plane fares and bike shipping costs. All other costs of their trip are out of pocket. There is a donate button on Williams' website: http://www.blacksmithonabike.com/. In conjunction with Pieh Tool Co., Williams is offering a $50 discount off a blacksmith class at his blacksmith school for a $10 donation to their travel expenses.
Williams and Allen say that their journey will likely take about three months. Both say that this is the longest trip they will have ever taken. They also say they are prepared.
"I have never taken a week off work in my life," says Williams, a blacksmith by trade. "This is my first big vacation." Allen says he has taken extended backpacking trips, including five weeks in Peru in 1985. But neither has extensive bicycle training. Until now.
"When I was 27," Allen says, "I was a smoker. Then I got married and started running. I then started doing 10K runs each year. Around 2000, I bumped up my runs to marathon distance."
"I've always been physical," Williams says. "Blacksmithing keeps me in shape. Everything I have ever done is easier than shoeing horses."
Williams says that he and Allen will probably ride 60-70 miles per day, six days each week. "We'll take the seventh day to relax and tune our bikes."
Allen has a preconceived idea of how each day should go. "We'll wake up at first light," Allen says. "Maybe we will wake up before the first light. Up in the north, we will have a lot of light. Even at night, it is rather twilighty up there. Best time to ride is the early morning. We hope to get 30 miles of riding in each morning, then stop for lunch, get back on the road, ride another 30 miles, then get into camp for the day."
"If you don't cook in camp, and if you keep a clean camp," Williams says, "you are safe as you can be."
"We'll be doing random stealth camping," Allen says. "We will set up camp wherever we get tired."
And wherever they get hungry.
"We will be carrying 10 days worth of food at a time on the first 2,000 miles, until we get through Canada," Williams says.  "And Mike is dehydrating food, which before the trip we will ship to post offices along the way. We'll also supplement at towns we pass through. But we hope to use the dehydrated food randomly. The Stewart Cassiar has some long stretches. Our plan is to do 60 miles minimum a day, some probably shorter and some longer depending on the weather."
Weather will play a role not just in the amount of miles the pair travels each day, but also in the route they take. Williams and Allen have prepared two separate routes through Colorado. The only certainty in Colorado is that Williams and Allen will stop in Carbondale, for a blacksmithing demo that Williams is scheduled to do. And Allen hopes that they can stop in Golden, Colo., where his son lives.
Spending time in Golden with his son, Allen says, would be one of the few times he and Williams would not be staying outdoors.
"We could stay at hotels from time to time," Allen says. "But I do not have my heart set on that. If it rains for several days in a row, maybe we would stay a night at a hotel, get a good night of sleep and dry out."
"But I am fascinated with nature," Allen says. "The Mother Nature experience."
Williams says that he may have the opportunity to do a few blacksmith demos along their journey, and with those demos, he and Allen may stay a night at the homes of the blacksmiths.
But most nights, they plan to stay on the road, camping. Once we get to their evening's campsite, Williams says, "I can explore, fish, do some running, meet new people."
"And I can play the ukulele and the harmonica," says Allen.
"Yeah! He's Tiny Tim!" Williams says of Allen.
When he gives himself a moment to relax on this journey, Williams says he can keep contact with people using a special app on his Ipod. "I can call and receive calls for free, anywhere there is Wi-Fi. It's pretty cool. We can also shoot and download photos." Williams and Allen are also planning to blog from the road. The link to the blog will be accessible through Williams' website.
Williams says he may also want to write a book about the pair's journey. And maybe, he says, they will one day ride through Europe or New Zealand.
"I want to show people that the human body can endure, that it can be on the road for months," Allen says.
"It's more mind than body," Williams says. "Life is short. If you can't be a good example, be a horrible warning!"
The following is a list of supplies that Williams and Allen will each be riding with on their bicycle trip from Fairbanks to the Grand Canyon.
Batteries
Bear bells
Bear spray
Bike shirts (3)
Bike shorts (2)
Bike tire, spare and one trailer tire with tubes, patch kit
Bob trailer with front and rear panniers and a handlebar bag
Bowls
Bug spray
Camp shoes
Campstool
Coffee mug
Coffee pot
Cold-weather gloves
Cooking pot
Cycling gloves
Dish soap and scrubby
Down coat
Duct tape
First-aid kit
Fishing pole
Frying pan
GoPro camera
Gortex raincoat and pants
Grill
Headlamp
Helmet
Ipod
Knife
Leather man multi-tool
Mosquito clothing
Packable pants
Passports
Plates
Polar fleece jacket
Polypro long johns
Riding glasses
Riding shoes
Shower, portable
Sink, portable
Sleeping bag and pad
Socks (3)
Socks, wool-blend (3)
Solar battery charger
Spare bike parts and tools
Stove, multi-fuel, with fuel bottles (2)
Sun hat
Tent and ground cloth
Thermos
Toiletries
Town shirt
Ukulele (Only Mike is bringing a ukulele)
Underwear (3)
Utensils
Washcloth and towel, micro fiber
Water bottles (3)
Water bags, multi-liter (2)
Water purifier
Wool cap
Zip ties