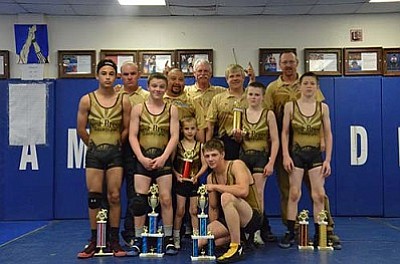 Originally Published: May 18, 2013 9:24 a.m.
Mario Chagolla, head wrestling coach at Camp Verde High School, has earned the Safeco Community Hero Award and a $5,000 donation to The Chagolla Foundation, after being nominated by the parent of a wrestler that has had interactions with the coach on weekends during his Weekend Wars tournaments.
"This award has me pleasantly surprised and deeply honored," Chagolla said.
Lori Paul, an insurance agent from Apache Junction, has been taking her son, Matthew, to the offseason weekend wrestling competitions. There she has seen the impact Chagolla has had on not only Camp Verde, but also the sport of wrestling in Arizona.
"Once I'm in there, it's amazing. It's amazing the pep talk he gives the parents and the kids and the inspiration," Paul said.
The wrestling coach dedicates himself to teaching wrestlers, whether they are stepping onto the matt for the first time or have won a state championship, and treats all of the students as if they were his own children, making up for a wrestling room with just the basics and nothing extravagant.
"Oh gosh, he's an amazing guy. The first time walking into the wrestling room, its nothing fancy, but he puts his heart and soul into those kids," Paul said. "[He] teaches everybody regardless of where they are at in their wrestling level ... it didn't matter, he took every kid in there and loved them like they were his own."
Since 2006, Chagolla has been using The Chagolla Foundation to help children become better assets to their communities and help at-risk youth through the sport.
While the foundation has only been in existence for seven years, Chagolla has been providing guidance for young wrestlers and at-risk youth for the past 30 years. One way he has been doing this is through his Weekend Wars wrestling tournaments. There he involves wrestlers and parents as they help with officiating, first aid and bring in donations.
"He is there to teach them and help them, every single one of them, it doesn't matter [and] everybody in that place helps each other ... whatever they can do to help the kids in there, get them active and around responsibility, its amazing," Paul said.
Chagolla uses the core values of wrestling; hard work, goal setting, dedication, practice and sacrifice, among others, to instill values into the student-athletes he comes across, to help them become active members in their community and be successful in their life.
"Wrestling trains these kids for the rest of their life," Chagolla said. "These are the characteristics they need to be successful on the mat, in school and in the workplace. These are the traits that will help prepare them for whatever life will send their way."
Through the Community Hero Award program, the foundation has the opportunity to win an additional $10,000 donation. For the foundation to win the extra money, people can visit the Safeco Community Hero website at, http://promoshq.wildfireapp.com/website/6/contests/323735. Voters are allowed to vote once a day and voting ends on June 3 at 10 a.m.