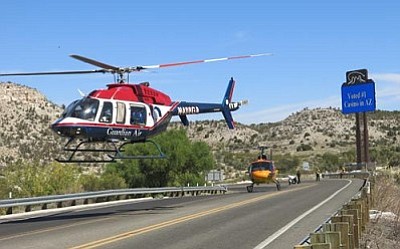 Originally Published: May 21, 2013 5:15 p.m.
Four people were flown to Phoenix-area hospitals Tuesday when the vehicle they were traveling in rolled off of Interstate 17 near Camp Verde.
Three emergency units from Camp Verde Fire District and an ambulance from Montezuma-Rimrock FD responded to the scene at about 8:30 a.m. on May 21. The one-vehicle crash was at milepost 290, just north of the Middle Verde exit.
According to Fire Marshal Kristi Gagnon, the vehicle was traveling northbound when a tire blew and caused the vehicle to roll, finally landing back on its wheels. There were four people in the vehicle, two adults and two children.
One adult passenger was not wearing a seat belt and was ejected from the vehicle. The two children were restrained in child safety seats; however, the seats were not properly installed. All four people were transported to Phoenix area hospitals via helicopter. Two Native Air and two Guardian Air helicopters responded to the scene to assist with transporting the patients.
Camp Verde Fire District would like to take this opportunity to remind the community that it is extremely important to make sure that every child safety seat is properly installed every time it is put to use. Please contact your local fire department if you would like information on proper installation of your child's safety seat.
More like this story