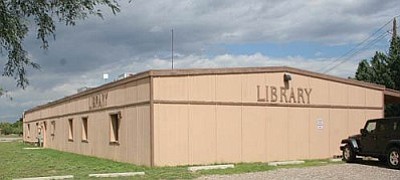 Originally Published: May 23, 2013 1:03 p.m.
Camp Verdeans who have really loved the library have mainly loved the idea of what the library can be.
Staff and volunteers have always pedaled hard to squeeze as much service as possible out of its limited resources. But let's face it; for assets and atmosphere, the Camp Verde Library has been a mere cipher next to the Cottonwood Public Library for a long time.
A revitalization, however, is clearly under way, and the Camp Verde Library staff did not wait around for a new building to begin juicing up services to the community. It seems they have wanted to be bursting with activities before spilling into the space of a new home.
Even over a recession, it is becoming what a modern library should be and is fulfilling the promise of a potential that many did not think it had.
The new grants just acquired are an example of just how diverse Director Kathy Hellman wants the library's reach to be in engaging the community. When it comes to offerings on the shelves, the town library cannot quite compete with the school district's library, but it must make teen readers a priority. That is happening now, and teens will be getting ownership of their library services via one grant. Making a centralized outlet for community members to share their talents - and there are lots of them - is the focus of the new Creator Faire being organized by the library via another grant.
Now there is a refreshed approach to a summer reading program. Long viewed as a way of keeping little kids in the book habit when out of school, the program now includes teens and adults as well. The Brown Bag Lunch Series is another venue for locals to share their knowledge in a setting that does not quite exist anywhere else in town. Not content to stay within its own walls, the library has planned activities at the town gym this summer, too.
Its current programs and future plans paint a picture of a library with its finger on the pulse of the community, the go-to place for learning and sharing information and for discovering Camp Verde. Those are big strides for what the library is now. What it can be in the future, with a new building, should not be underestimated by anyone.