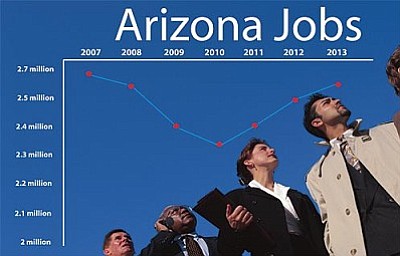 Originally Published: November 8, 2013 10:42 a.m.
PHOENIX -- There finally will be as many people working in Arizona at the end of next year as there were employed here in 2005.
But a new report Thursday shows it will take perhaps three more years for the state to hit its pre-recession employment peak.
And even at that point, the Arizona's jobless rate won't be anywhere close to what it was -- below 4 percent -- before the economy went into the tank. That's because while there will be as many jobs as there were in 2007, the state's overall population will have grown.
In fact, Aruna Murthy, director of economic analysis at of the state Department of Administration questions whether Arizona will ever see numbers that low again.
The most recent figures put Arizona's jobless rate above 8 percent. And Murthy said that the "new normal" unemployment rate for the state -- if and when it gets there -- easily could be in the 6 percent range.
Not surprisingly, most of new jobs will be in the Phoenix metro area, where about 70 percent of the population already resides.
But even looking at it another way, Murthy said that area of the state will get more than its fair share of the 59,000 jobs she expects for 2014. She figures 46,700 of them -- or four out of every five -- will be in Maricopa and Pinal counties.
Pima County is expected to add 7,800 jobs in 2014, with the other 13 counties dividing up the 4,400 remaining.
The report was released the same week that Gov. Jan Brewer announced two new employers for the state: a supplier for Apple and Gigya. That follows a parade of similar announcements by Brewer this year -- all for the Phoenix metro area.
Asked what Brewer has done to land companies elsewhere in Arizona, press aide Andrew Wilder provided no specific examples.
Instead, he said the Arizona Commerce Authority, which she chairs, has been "instrumental' in creating 1,300 jobs in rural Arizona since its inception more than two years ago. And he said the authority also provides grants to rural communities to make infrastructure improvements to attract employers.
With the Phoenix area employment propping up the numbers, Murthy said Arizona is Arizona is posting a faster job growth than the national average.
But even at that, Arizona has recovered fewer than half the more than 300,000 jobs lost since peak employment in late 2007. By contrast, the national average for job recovery is at 78 percent of pre-recession levels.
Even with more jobs being added, Murthy said that will not necessarily translate into better pay for Arizonans.
She said per capita income -- a figure of all income against population -- now is $34,806. Murthy said that, in inflation indexed dollars, that will actually drop by $2 by 2014.
In 2007, the figure for Arizona was $36,229.
Some of that, though, may be due to the state's increasing elderly population who get added to the equation even though they are not employed. And Jack York, a senior economist at the agency, said the output per employee in Arizona is less than the national average.
But Murthy said, whatever the factors, she believes wages in Arizona will remain essentially flat.
Not all segments of the state's economy will grow at the same rate.
One of the biggest increases, at least from a percentage basis, will be Arizona's beleaguered construction industry. Murthy figures employment should increase by 7.1 percent in 2014.
But that will bring the total number of people working in that sector up to just 132,700. And that's just 54 percent of when it peaked seven years ago.
Murthy said she cannot say whether Arizona will ever need as many construction workers as it had in the boom days, when it made up close to one out of every 10 people in the workforce.
"We may not need that many homes as in 2006 when the rate of population growth was significantly steeper,' she said.
The state's health care industry, which never was affected much by the recession, will continue to grow. The prediction is it will add 12,600 jobs in 2014, a 4.7 percent increase.
At the other extreme, Murthy is predicting anemic growth in the manufacturing industry: It will add just 1,500 jobs, or about 1 percent. She said much of this can be tied to cutbacks in federal spending which directly affects the state's aerospace companies.
And the private education industry, which includes such giants as the University of Phoenix, is expected to shed 1,700 jobs overall, a drop of about 3 percent.
Thursday's report also predicts that, when all is said and done by December, Arizona will have gained 48,500 jobs this year. That is 20 percent less than Murthy had predicted in last year's forecast for 2013.
Murthy said, though, there were factors that could not be known at the time.
The biggest is the "sequestration' of federal dollars, the forced cuts in both military and civilian spending after Congress could not agree on an actual budget deal. Murthy figures that move alone lost the state between 10,000 and 15,000 jobs.
On top of that was the increase in the payroll tax rate that took effect earlier this year. And she said the three-week government shutdown also took a toll.