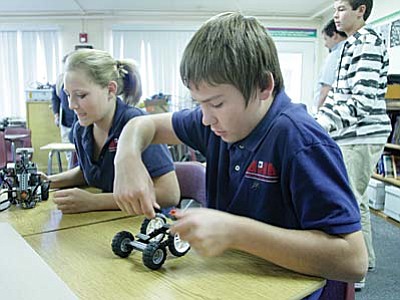 Originally Published: November 16, 2013 1:32 p.m.
CAMP VERDE - When Josh Riffel interviewed for a teaching position at American Heritage Academy's Camp Verde campus, he wanted to embrace unconventional teaching methods.
"A lot of our students are tactile learners," says Riffel, in his first year teaching at the school. "So being able to do something hands on, they'll learn a lot."
Thanks to a loan from Verde Valley Robotics, Riffel's science students have access to 10 Lego's Mindstorms robotic kits, including computers, software and a booklet that gives step-by-step directions for how to build a robot.
"Like with any Lego's, your imagination is the limit," Riffel says. "And it's fun. They love the robotics. They get into groups and problem solve. Communication is really important."
Riffel says that learning about robotics is more than fun. It's educational.
"This is helping them with problem solving," Riffel says. "One thing I am looking forward to is that you can use the robotics for future lessons."
Later this semester, Riffel's class will explore the Earth's composition and natural disasters. They may even construct a Mars rover.
"We'll do a mockup of Camp Verde. They'll have to use the robots to accomplish tasks, like deploying a bridge, picking up soil samples and trace roads to determine which need to be fixed. Anything to use different senses," Riffel says. "The robots have ultrasound for depth finding. And they have line tracers. If you drew a line, the robots could follow it."
The robotics are allowing eighth grade student Presley Clay to use his sense of enjoyment.
"I liked building the robot," Clay says. "I like to build random things."
"We're having fun programming robots," says eighth grade student Dominic Sunstrom. "And we're learning stuff that deals with artificial intelligence."
Said eighth grade student Delaney Musselman, "We get to build something useful."
More like this story