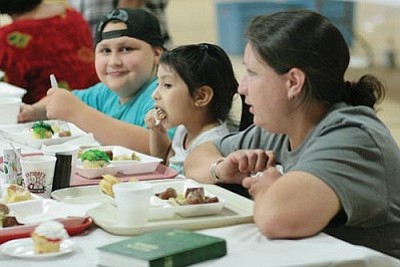 Originally Published: November 26, 2013 1:28 p.m.
CAMP VERDE - Carrying her 6-month-old son Michael, Erienne Sapp helps her grandmother pick up the weekly provisions.
"And I make sure she's able to get it in the car," says the Camp Verde resident. "It certainly helps."
As much as Cally Smith depends on her granddaughter, she also relies on the Camp Verde Seventh-day Adventist Church. For the past four years, the church's food distribution program has been the only way that she can put food on the table.
"What they do here is a very good thing," says Smith, a resident of Camp Verde. "And the people inside are sweet. I tell everybody I know about them."
For Laura Valdez of Camp Verde, receiving food from the church "allows us to make it from week to week. When you have a large family, everything helps."
Valdez and her husband have eight children.
Volunteer Becky Kleinman says the church is "my grocery store. For many, it's the only way we get food."
Each Wednesday, the Camp Verde Seventh-day Adventist Church distributes food, clothing and blankets and miscellaneous items. On a recent distribution day, the church provided for close to 1,500 people, according to Sue Kennedy, director of Adventist Community Services for the church.
"We gave away 16,274 pounds of food," Kennedy says. "We also distributed 973 clothing items and blankets, as well as 347 miscellaneous items, kitchen items such as dishes, glasses, and books, videos, and children's toys."
For the month of November, the Camp Verde Seventh-day Adventist Church has been giving out turkeys each Wednesday leading up to Thanksgiving. Kennedy says the church's goal is to help as many people as possible.
"There is such a need in our valley, due to the economic situation," Kennedy says. "We share fruit and produce that comes up on the St. Mary's Food Bank Alliance truck on Wednesday mornings with other organizations such as Rising Hope Food Bank in Cottonwood, two Camp Verde LDS Ward food banks, the [Camp Verde] Senior Center, Camp Verde and Montezuma-Rimrock Fire Departments, The Bread of Life, and The Willows.
"And we have another woman who cooks for 30 people every week," Kennedy adds. "Several others also deliver food boxes to people every week who have no transportation or are too ill to come to the church."
Besides distributing close to 75 boxes of food each week, Bread of Life Missions serves about 100 hot meals each Tuesday evening at the Camp Verde Community Center. This year, Bread of Life's annual Thanksgiving dinner is on Nov. 26. Bread of Life director Duane Burris says that approximately 400 people come for the annual Thanksgiving dinner.
"It's a blessing that the Lord provides such a wonderful thing, not just for Thanksgiving, but for the whole year," Burris says. "It's always wonderful to see all the people. We try to make it a really wonderful thing."
After dinner, attendees were given a box of food that included a turkey.
According to Burris, it takes close to $85,000 each year to run the program.
For more information about Bread of Life, call (928) 567-6931.
Dana Parfitt, who runs the Seventh-day Adventist Church's Care Club food program with her mother Marilyn Gerard, says the needs of the community have increased in the past year.
"We really need a much larger building to hold a walk-in cooler and to shelter the many people who now must wait outside in the heat and cold," Parfitt says. "We are a community project that needs community support to continue to serve the growing needs."
For more information about the Camp Verde Seventh-day Adventist Church and its food distribution program, call (928) 567-4281. Camp Verde Seventh-day Adventist Church is located at 1406 N. Boot Hill Drive.
More like this story