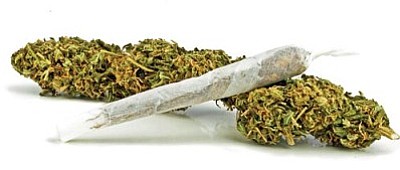 Originally Published: November 29, 2013 9:10 a.m.
PHOENIX -- Saying legislation is better than a voter initiative, the Number 2 Democrat in the state House wants colleagues to legalize marijuana for recreational use.
Rep. Ruben Gallego of Phoenix pointed out that proponents of making marijuana legal for adults are gearing up to put the issue on the 2016 ballot. And Gallego said he believes that Arizona voters, who approved the drug for medical use three years ago, may be ready to take the next step.
But Gallego warned that anything adopted by voters is pretty much cemented into place: The Arizona Constitution sharply limits lawmakers from tinkering with anything approved at the ballot, even if they find major flaws.
So Gallego is proposing to have the issue debated through the legislative process, with the idea that lawmakers are better suited to coming up with a comprehensive plan -- and one without unforeseen problems -- than outsiders circulating petitions.
The head of the House Judiciary Committee, through which Gallego's measure would have to pass, acknowledged that attitudes about marijuana in Arizona are becoming more liberal. In fact, Rep. Eddie Farnsworth, R-Gilbert, said voters might even approve a legalization measure at the ballot.
But Farnsworth said he's still opposed to the idea. And he said just because it might be approved at the poll is no reason for him and others who don't want marijuana legalized to vote to support it at the Capitol.
Gallego, who said he's never tried marijuana, said one reason to legalize the drug is purely economic: the costs to the state of jailing people for marijuana possession.
He acknowledged that a 1996 voter-approved measure generally allows first- and second-time offenders to escape incarceration. But Gallego said prosecutors use the fact that someone had marijuana when arrested for something to boost their prison sentence.
He also said that those with marijuana possession convictions face other problems, like becoming ineligible for federal Pell grants and federally backed student loans.
But Gallego said what should concern legislators is the plan by the Marijuana Policy Project to put a legalization measure on the 2016 ballot that cannot be altered once approved. He said a more thoughtful process will avoid pitfalls.
"For example, what does it mean to child custody laws, what does it mean to employment all, all kinds of things that could be forced down upon us,' he said.
Farnsworth, however, said that's no reason for legislators to get out in front of the issue.
"When we start making policy because we think it's going to be rammed down our throats, that kind of is an indication of the way the system's kind of broken,' he said. Farnsworth said the 1998 Voter Protection Act, limiting the ability of lawmakers to amend what is adopted at the polls, put "shackles' on their ability to address real problems with voter-approved initiatives.
And Farnsworth said he will not let the threat of an initiative pressure him into supporting a policy with which he disagrees.
It remains an open question of whether Arizona voters are ready to adopt a Colorado-style law which permits individuals to legally possess small amounts of the drug.
Voters did narrowly approve marijuana for medical purposes in 2010. But Farnsworth said that's far different than letting any adult possess and use the drug for any reason.
"I think that when people passed medical marijuana they believed that marijuana for sick people who have cancer, who have pain, who legitimately would benefit from marijuana as a drug is no different than giving narcotics, giving pain killers, that are controlled substances to patients,' he said.
And even Farnsworth said even he sides with that viewpoint. He said marijuana is certainly no more dangerous -- and perhaps less so -- than many of the narcotics that doctors already are legally prescribing.
Still, he conceded there is a real chance that a 2016 ballot measure would pass.
"I do think the attitude toward marijuana has become more liberal and more accepting,' Farnsworth said. "But I still think that people see it as a controlled substance for a reason.'
The legislation Gallego is crafting would allow those at least 21 years old to possess up to an ounce of marijuana and grow up to five plants.
Gallego said he is still working on details of exactly who would be entitled to sell the drug but said it would be more restrictive than simply making it available at convenience stores.
He also wants the drug subject to at least the state's 5.6 percent sales tax, with half of the funds earmarked for treatment of alcohol and drug abuse and the other half supplementing the state budget.
More like this story