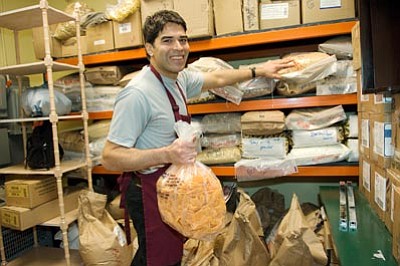 Originally Published: November 30, 2013 10:44 a.m.
We saw you.
You were serving free turkey dinners for those who would not have had much of a Thanksgiving otherwise.
You were packing food boxes for those in need.
You were ringing bells for the Salvation Army.
You were collecting goods to be wrapped up for holiday parcels for the disadvantaged.
You were visiting shut-ins who don't see much of anyone.
While at this time of year other people might be focused on recipes and huge sales, the real spirit of Camp Verde is on display. Given a good cause through a trusted organization, Camp Verdeans are generous with their time, talents and means.
And here's a secret: It goes on year round.
Serving others is a way of life for a certain number of people in town. Many have made charitable works the focus of their clubs. Others make a point of organizing several fund-raising events throughout the year that benefit others. Look around, and it's easy to find religious organizations practicing what they preach.
And there are those who jump at the chance to help the Bread of Life Mission distribute provisions.
Those who are being served by all this activity are often part of the service efforts, too, empowering them in ways a detached handout does not.
The ongoing good-deed-doing, even when taken for granted or overlooked, is the best of Camp Verde. More than that, it is what the town is at its core.
That can be easy to forget among divisive issues and emotional politics that will always be a part of any community. Camp Verde is a municipality that has always relied on people looking out for each other. Without that, the town devolves into spite, suspicion and resentment.
Charitable works, especially involving children or the aged, get much more attention during the holidays. You may be surprised, though, at how much is done the rest of the year to keep altruistic projects going.
You volunteers may be quiet about your work, but you are noticed. Camp Verde is in your debt.