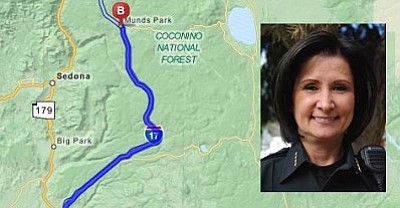 Originally Published: October 15, 2013 2:23 p.m.
CAMP VERDE - At Wednesday's regular session, the Camp Verde Town Council will again discuss and possibly approve waiving the Town's residency requirement to allow Town Marshal Nancy Gardner to reside in Munds Park.
At the Oct. 2 regular session, the Council voted 3-to-2 to waive the Town's residency requirement to allow Gardner to reside in Munds Park.
But the Council must have four confirmatory votes to waive the requirement of Town Code section 3-2-4. Town code requires that the Town Manager and Marshal each live in Camp Verde. Town Code also allows the Council to waive that requirement on a case-by-case basis.
In a recent Bugle poll, 75 percent of nearly 40 responders did not believe Gardner should be given the waiver.
And neither does council member Carol German.
When asked whether public opinion should affect the Council's decision, German said, "I would certainly hope so. We should be listening to our constituents."
Marshal Gardner also spoke of the importance of public opinion.
"I don't take comments personally," Gardner said. "I encourage comments."
Gardner also said that though she won't try to guess the outcome of the Council's vote, she would continue to do her job to the best of her ability.
"If the wavier is denied, I will abide by the decision," she added.
Town Manager Russ Martin, though he supports Gardner's request for the waiver, also agrees that the public's opinion needs to be considered.
"The people's comments are valid points," Martin said. "I don't discount them whatsoever."
German also discussed the tendency of making a decision based on job performance, which she said she opposes.
"[Gardner's] job performance is not the issue," German said. "The code is. And waiving it [or not waiving it] is our responsibility."
According to German, sound reasons for allowing the Marshal to live outside of Camp Verde include personal or financial hardship. German said that neither applies in this case, since Gardner said that she purchased the home in Munds Park as a vacation home. Before moving to Munds Park, Gardner and her husband had been renting a home just outside of Town limits.
"I could approve a waiver to live where they were renting," German said. "But I cannot waive a requirement for that distance. I could waive it if it was reasonable. But this is not reasonable. I think it's wrong."
Besides the distance, German cited the inability for Gardner to vote in Yavapai County elections, among other reasons, for not supporting the request for waiver. Munds Park is located in Coconino County.
Wednesday's regular session will be held at 6:30 p.m. in council chambers, 473 S Main St. #106.
More like this story