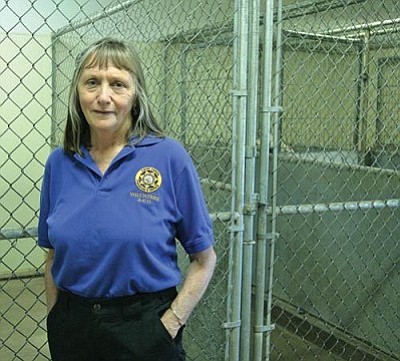 Originally Published: September 7, 2013 2:40 p.m.
CAMP VERDE - Kathy Davis and her husband Chip Norton have 13 animals.
"I've always been an animal lover," Davis said. "As a child, I had a horse. I've been around horses a lot. And I've always had dogs and cats."
Now retired from her career with the National Park Service, Davis volunteers at Camp Verde Animal Control.
"We're not a shelter," Davis said. "We're basically an impound. Since June 2012, 168 dogs have come through the impound. Of that, 108 went to rescue, 33 returned to their owners and 28 to the Adopt For Life center in Cottonwood. We've never euthanized a dog."
Davis is proud of the center's no-kill reputation. But she isn't happy about people who discard their pets.
"The majority of the dogs that have been here were dumped, thrown away," Davis said. "I feel that it speaks about the people who do this. These people are not responsible or caring."
"We can help them do something with their animals," she continued. "The good thing about these shelters, dogs and cats are neutered or spayed before adoption."
"I want to give credit to [CVMO] Marshal Nancy Gardner and Animal Control's Lisa Diacik," Davis said. "They have created a work ethic and environment of animal control that I can easily work in. That really is for the welfare of the animals. We help mostly dogs. But we try to help people who have cats."
On average, Davis volunteers four hours each week. But sometimes, Davis will spend as many as 20 hours in a week feeding and walking dogs, cleaning their cages, washing their food and water bowls, hosing off and disinfecting the floors and doing laundry.
"We could use volunteers," Davis said, listing the above-mentioned tasks needed of volunteers, as well as data entry, community promotions and driving animals to rescue groups or to the rabies clinic for shots.
For more information about volunteering with Camp Verde Animal Control, visit: http://www.campverde.az.gov/government/marshals-office/animal-control-2/.