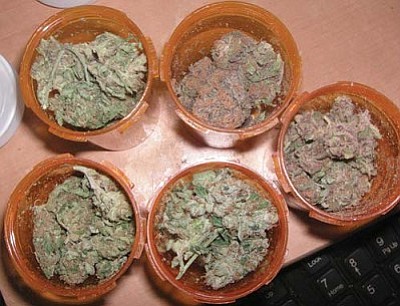 Originally Published: September 11, 2013 8:27 a.m.
PHOENIX -- The group that helped get Arizona a medical marijuana law in 2010 is now gearing up for a 2016 ballot measure to allow any adult to use the drug for recreational purposes.
Mason Tvert, spokesman for the Marijuana Policy Project, said Tuesday his group is buoyed by the announcement last month by the Obama administration that the Department of Justice will not try to void voter-approved laws in Colorado and Washington making recreational use of the drug legal. That, he said, paves the way for expansion of the concept into 10 other states, including Arizona.
Tvert, a Scottsdale native, acknowledged that the original medical marijuana law was approved here by only a narrow margin. But he said attitudes toward the drug are changing.
More to the point of 2016, Tvert said, the dynamics will be different three years from now.
"It will be a presidential election year and we tend to see a much larger turnout, including a lot of younger voters and others who tend to be supportive of ending marijuana prohibition,' he said.
But Maricopa County Attorney Bill Montgomery promised to do what he can to kill the initiative.
"We will not get caught flat-footed and late to the issue again,' he said, a reference to the fact there was no organized opposition to the 2010 medical marijuana measure. Montgomery also promised to work to "counter the misinformation relied up by the Marijuana Policy Project to mislead the public about the nature and impact of drug legalization.'
The initiative envisions treating marijuana like alcohol: Regulated by the state, available to adults and sold only at state-licensed retailers. Tvert said it could piggy-back on the medical marijuana laws which have so far allowed nearly 100 state-regulated but privately owned dispensaries to open.
He also said the Colorado law could provide a good model. It permits Colorado residents to purchase up to an ounce of marijuana at any one time; those who live elsewhere can obtain up to a quarter ounce.
What spurred the move is that Department of Justice memo providing "guidance' to federal prosecutors on the issue of whether to pursue retailers in states which allow the recreational use of the drug.
In a four-page memo, James Cole, the deputy federal attorney general, acknowledged that sale and possession of the drug remains a federal felony. But Cole told prosecutors they should, in essence, leave those issues to the states when only small amounts are involved.
Cole said, though, that federal prosecutors will defer to state decisions only if there are safeguards in their programs, like preventing the sale to minors and ensuring the drug is not diverted to other states where possession for recreational purposes remains illegal.
Tvert, who now lives in Colorado, said he believes the system there -- and the one envisioned for Arizona -- will meet the Department of Justice concerns.
What it will not do is satisfy state and local prosecutors.
Montgomery already has dismissed the Justice Department memo as legally meaningless. He said as long as the federal statutes remain on the books he cannot ignore marijuana sale or use, whether for medical or recreational purposes.
In fact Montgomery already is trying to convince the state Court of Appeals to void the 2010 medical marijuana law as preempted by federal statutes, regardless of the Cole memo. Similar arguments he made -- some supported by Attorney General Tom Horne -- were rejected by a trial court judge.
Tvert said the issue has parallels with alcohol which at one time was also prohibited by a federal constitutional amendment.
"Marijuana prohibition has been just as ineffective and inefficient as alcohol prohibition,' he said. Alcohol prohibition also proved widely unpopular and eventually was repealed.
"We believe voters around the country and in Arizona are ready to adopt a more sensible policy,' Tvert said.
But Tvert said this does not mean marijuana would be as widely available as liquor at every convenience store.
"These would be retail marijuana stores,' he said, similar to the existing dispensary system for medical marijuana.
The idea of strict regulations is designed to meet what Cole said are the guideposts for when the federal government would prosecute and when it would, in effect, look the other way. And that goes beyond the question of distribution to minors.
For example, Cole's memo said one of the provisions federal prosecutors should look for in state laws is preventing state-authorized marijuana activity from being used as a cover for trafficking of other illegal drugs. Other concerns include preventing violence and the use of firearms in cultivating and distributing marijuana, and preventing "drugged driving' and other public health consequences.
That last issue presents some interesting problems under current Arizona law.
Arizona law now specifies that someone with any amount of a metabolite of marijuana in the blood is considered legally impaired.
Prosecutors have conceded in one case making its way through the legal system that some metabolites remain in the system for days after someone uses the drug -- and long after they might be considered impaired. But they are arguing to the Arizona Supreme Court that the state is entitled to make evidence of metabolites the grounds for charging someone with driving while impaired.
The high court has not issued any rulings on that issue.