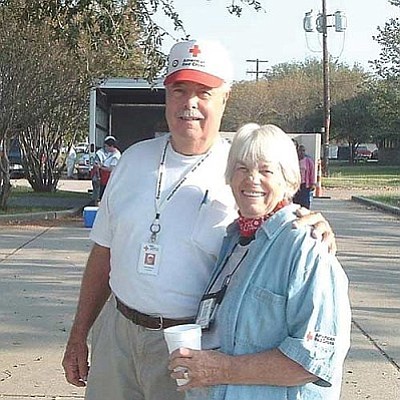 Originally Published: September 21, 2013 4:56 p.m.
CAMP VERDE - Helen and Bob Zimmerli make up half of the American Red Cross's volunteer base in Camp Verde.
Which is impressive, considering that they are both retired.
Since 2003, the couple has been volunteering with the organization's Disaster Action Team (DAT). Helen and Bob helped with the recent Yarnell fire. One of their first assignments was helping victims of Hurricane Katrina.
"We went all around [the Verde Valley] and gave a lot of talks after Katrina," Bob says. "We've been trying to get volunteers in the Verde Valley. We need volunteers in Camp Verde really badly."
In their efforts with the DAT, Helen and Bob have found their niche. They prefer to drive an Emergency Response Vehicle, known as an ERV. Volunteers who drive an ERV are generally dropping off cooked meals to the hungry. They also have a stash of stuffed animals for children.
"One time I gave a child a Mickey Mouse," Helen says. " She was so grateful. We could see that she was ill and upset."
Bob applauds the way Helen is able to counsel people in crisis.
"About 99 percent of people say they don't need counseling," Bob says. "But people melt when they talk with Helen. Within five minutes, they're hugging and crying."
According to Red Cross volunteer and Camp Verde resident Dave Curtis, both Helen and Bob "have a great compassion for people who are affected by a disaster. Both of them can sit down and listen and communicate in a way that shows they care about the person and what they are going through at the moment. This is their biggest strength. It is a pleasure to volunteer with Helen and Bob."
Volunteers work long days when working on the DAT.
"We put in 14- to 16-hour days when we're working these disasters," Bob says. "It's like a 24-hour job. We like that. But it's not easy for everybody. We don't give a lot of first aid, but we do help people with food and with giving directions. It's a wonderful thing for husband and wife to work together. The ERVs must have a co-pilot. We happen to like the ERV."
The Red Cross buys the food. The Salvation Army has a contract to cook up all the food. It's good food. And Bob and Helen go out and deliver it in the ERVs.
"Bob and Helen are wonderful," says Trudy Thompson Rice, Phoenix Regional Communications Officer for the American Red Cross Grand Canyon Chapter. "They know what it takes to take care of business and they're always ready to roll."
Helen says that sometimes, during such tragedy, people aren't sure whom they can trust. She remembered one such time in North Carolina.
"We went out on our route to deliver goodies," Helen says. "Nobody came out. We blew our horn. Nobody. So we went back to our office, told Belle, our Red Cross lady, what occurred. She said 'get back in the ERV. I'm coming with you.' She also worked with the [local] fire department. Turns out she knew every one and knew every home."
As they drove back the second time, the locals responded to Belle's voice and gathered to collect the supplies brought for them.
"We parked the ERV," Helen says, "and Belle got out and bellowed 'you all come out!'"
"They kept coming," Helen says.
Helen says that not only were people not sure whom they could trust, but maybe folks were embarrassed.
"They were very independent people," Bob says. "They were scared. But they came out for her."
Volunteering with the American Red Cross for close to 10 years has taught Helen and Bob a few things. Many volunteers give up because they believe that they are not really helping. This, Bob says, couldn't be farther from the truth.
"I have seen volunteers leave who thought they weren't helping enough people," Bob says. "The guy that trained us said 'in the three weeks you are here with the Red Cross, if you truly help one person, you've done what the Red Cross wants you to do.'"
More like this story