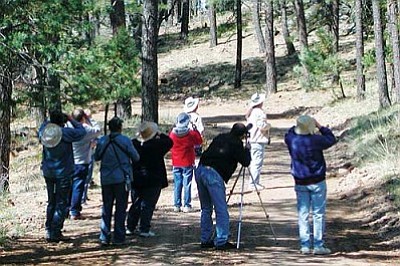 Originally Published: September 21, 2013 4:45 p.m.
COTTONWOOD - Do you know your birds? Would you like to be more involved in teaching and sharing your knowledge with others?
The Verde River Valley Nature Organization (VRVNO), a non-profit organization that is responsible for the annual Verde Valley Birding and Nature Festival held each April, is offering a Nature Guide Academy for past, present and future guides to ramp up their skills when leading groups on field trips and nature walks.
The Academy is a three-part workshop beginning Sunday, Oct. 6, with classroom work provided by Dena Greenwood and Randy Miller, at The Studio at Dead Horse State Park in Cottonwood. Part two is a field trip on Oct. 13 at the Page Springs Audubon birding area with the instructors, and finally, the students lead their own field trips to earn their certification. Lunch will be provided during the classroom session.
Barbie Hart, event coordinator for the Verde Valley Birding and Nature Festival said, "The idea of the Nature Guide Academy came from the need to find new guides for the growing festival. We offer high quality birding field trips and this is an opportunity to fill the need to train birders in techniques that they can utilize when leading their groups".
Many potential field trip leaders are expert in their areas of interest but may lack the techniques to relate the information in an exciting, engaging way that leaves the participant feeling as if they had an experience. VRVNO's goal is to foster appreciation and develop advocates for the Verde Valley natural resources by providing a meaningful educational experience with the help of our field trip leaders.
There is a limit to the number of participants that can be accommodated and the event organizers are suggesting that the earlier you register the better. The registration form can be downloaded from www.VRVNO.org and mailed to P.O. BOX 2224, Cottonwood, AZ 86326.
If you have questions or would like additional information you can email birdyverde@gmail.com or call 936-282-2202. The Academy is free for past VVBNF leaders who want to hone their skills and $25 for others interested in taking this course.
The fee will be refunded to those who complete the course and meet the requirements to become field trip leaders for the Festival. Certified guides receive higher honorariums than non-certified guides.
For more information about Verde River Valley Nature Organization, visit www.VRVNO.org. If you'd like to be a volunteer for one of the VRVNO events or committees, contact Bruce Maurer at ionicb@hotmail.com.