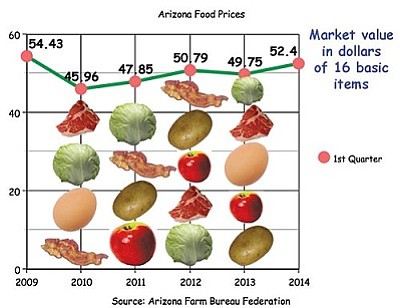 Originally Published: April 3, 2014 3:18 p.m.
PHOENIX -- Hungry for red meat?
You may want to adjust your taste buds.
New figures Thursday from the Arizona Farm Bureau Federation show the cost of beef in the state is skyrocketing.
Consider: Just two years ago the quarterly survey by the organization showed you could buy sirloin tip roast at $4.85 a pound. The survey of prices in the first quarter of this year put the average price at $6.49.
The story is more mixed with less-expensive cuts, with the price of ground chuck, while up from a year ago, still pretty close to what it was in 2012.
But Farm Bureau spokeswoman Julie Murphree said consumers looking for prices to drop may have a long wait.
"I wouldn't be surprised to see our meat prices within this market basket maintain that higher price for awhile,' she said.
Murphree said beef prices continue to be impacted by drought conditions. That has driven up the cost of feed. At the same time, she said, the demand for U.S. beef is increasing, not just domestically but worldwide.
Murphree said one way for beef lovers to continue to enjoy it is to eat at home.
And she said there are bargains to be had for "smart shoppers.'
"Remember, we're not using in-store coupons' in doing the quarterly surveys. "And there's some really good deals out there, even in your meat, if you hunt for them.'
Egg prices also continue to creep upward, with the average now at $2.27.
Murphree said this is also an issue of supply and, more significant, demand -- much of that from Mexico.
She pointed out that nation has killed millions of chickens in the last two years due to bird flu. At the same time, Murphree said, per capita use of eggs is much higher south of the border than it is here.
But Murphree said even at that, the value for the protein available "is still an amazing value.'
Milk prices also are up. But Murphree said she expects a decline later this year as milk consumption generally drops in the summer.
Overall, the bottom line for the cost of the 16 typical items checked quarterly by the Farm Bureau is up about 1.5 percent from the prior quarter and 5 percent year over year.