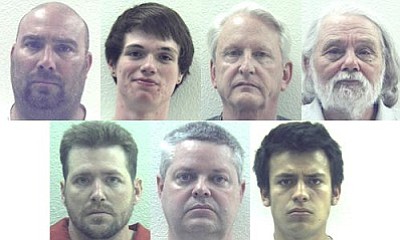 Originally Published: April 28, 2014 6:32 p.m.
Several law enforcement agencies executed Special Operation Child Prostitution in Yavapai County in an effort to net people soliciting underage girls for sex. As a result nine people were arrested, including a teenage boy.
The human trafficking tracking effort involved the Yavapai County Sheriff's Office, Cottonwood Police Department, Prescott PD, Prescott Valley PD, Department of Public Safety, Department of Homeland Security/ICE; GIITEM, Partners Against Narcotics Trafficking and Tempe PD.
The operation posted a notice on an Internet site to target people searching for sex with underage prostitutes. After the suspects initiated contact, they made arrangements to meet the underage girls in a Yavapai County motel room on April 22 and 23.
Seven adult men were arrested after allegedly requesting sex acts and presenting payment in the motel room. They were charged with conspiracy to commit child prostitution.
They include Conrad Gerard Bauman, 52, of Camp Verde (released on $50,000 bond); William Michael Brown, 19, of Prescott Valley (released on $20,000 bond); Daniel Newton Head, 67, of Flagstaff (released on $50,000 bond); Francis F. Kraps, 78, of Prescott (released on $50,000 bond); Jason Michael Pennock, 32, of Dewey (in custody on $50,000 bond); Clifton Alan Reichle, 51, Prescott (in custody on $50,000 bond); and Alejandro Navarro Walton, 28, Prescott (in custody on $50,000 bond).
Also arrested in the sting was Eric Michael Klopf, 36, of Peoria, who is accused of driving a 17-year-old male to the motel to meet with an underage female for sex. Klopf was arrested in the parking area on charges of possession of marijuana and paraphernalia. The juvenile was arrested after allegedly offering to pay cash for sex in the room.
According to YCSO, the adults were booked at the Camp Verde Detention Center, and the teen was booked at Prescott Juvenile Detention Center.