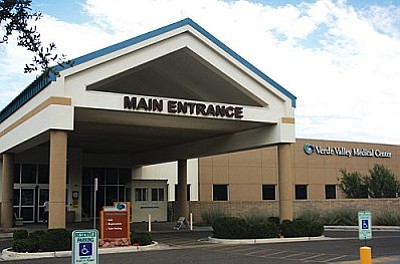 Originally Published: April 29, 2014 12:26 p.m.
Verde Valley Medical Center once again received national accreditation from DNV Healthcare, the newest Medicare-certified hospital accreditation organization. The accreditation announcement followed a rigorous three-day survey by a four-member survey team. The team will also be recommending VVMC for ISO 9001 certification, which integrates its quality management system with Medicare's Conditions of Participation.
VVMC first made the decision in 2011 to pursue DNV accreditation to further its commitment to continually improve the quality of care it provides. Hospitals have three years from their first survey to become compliant with the ISO 9001 standards to maintain their accreditation with DNV.
According to Barbara Dember, VVMC president and chief executive officer, DNV hospital accreditation addresses the demands of quality-driven hospitals that are dedicated to patient-centered care.
"Earning national accreditation through a program such as DNV demonstrates VVMC's commitment to providing quality-driven, patient-focused healthcare," Dember said. "This accreditation is a testament to the dedication of our physicians, nurses, support staff, volunteers and Board of Directors. Throughout the extensive three-day survey, the team of surveyors praised VVMC. One surveyor said of all the hospitals he has surveyed since 2006, VVMC is in the top five.
"This year, all four surveyors commented on VVMC's commitment to our community through the various programs we offer. Our care and dedication to the community extends beyond the walls of the hospital, and they noticed this in everything we do."
DNV Healthcare Inc. is based in Cincinnati, Ohio, and is a wholly owned subsidiary of Det Norske Veritas, a global independent foundation dedicated to safeguarding life, property and the environment. Since receiving its authorization from CMS in 2008, DNV's process has quickly become recognized for taking a collaborative approach to working with hospitals on quality improvement.
That commitment to working together is why more than 500 hospitals around the country have chosen DNV for accreditation. Fourteen hospitals in Arizona have chosen DNV for their accreditation including Verde Valley Medical Center and Flagstaff Medical Center; Casa Grande Regional Medical Center; Florence Community Healthcare; Florence Hospital at Anthem; Freedom Pain Hospital; Kingman Regional Medical Center; Maricopa Integrated Health System; Mountain Vista Medical Center; Scottsdale Healthcare's Osborn, Shea and Thompson Peak Medical Centers; and St. Luke's Medical Center and Behavioral Health Center.
For more information about DNV Healthcare, visit dnvaccreditation.com.
To learn more about the programs and services offered at Verde Valley Medical Center, visit VerdeValleyMedicalCenter.com.
Why Accreditation Matters to Healthcare Consumers
Accreditation can directly affect the quality of hospital care. Why? Because while undergoing the accreditation process, a hospital makes critical decisions about how it cares for patients as well as how it stores medications, allocates nurse staffing, and administers its policies and procedures.
By law, hospitals must be compliant with the Center for Medicare and Medicaid Services Conditions of Participation to be reimbursed for care provided to patients covered by Medicare and Medicaid. Hospitals can verify they meet these CMS standards in one of two ways:
· They can choose to be accredited by one of three private organizations to which CMS has given the authority to verify conditions of participation: DNV, Joint Commission on the Accreditation of Healthcare Organizations (JCAHO) and the American Osteopathic Association.
· They can be certified by CMS itself, usually through state health departments.
The big difference in the DNV accreditation program is its emphasis on continual improvement and innovation. Historically, accreditation has been a rigid inspection not designed to promote new ideas within the hospital. DNV's program, while being extremely rigorous, taps into the know-how of the hospital's caregivers, techs and administrators to develop best practices.
DNV Healthcare's hospital accreditation program is the only program that integrates the ISO 9001 quality management system with Medicare's Conditions of Participation. ISO 9001 is recognized by businesses around the world as the benchmark for continual quality improvement. It provides a tried and tested framework and systematic approach to managing an organization's processes so they consistently meet their customers' expectations.
More like this story