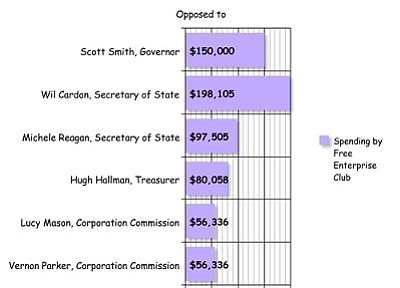 Originally Published: August 18, 2014 4:19 p.m.
PHOENIX -- The state's elections director says an organization that has so far put nearly $1.7 million into this year's primary election likely is violating campaign finance laws.
Christina Estes-Werther wrote in a report that the evidence reviewed by her office shows the Arizona Free Enterprise Club should have registered with the Secretary of State's Office before it started doling out money to affect numerous statewide and legislative races.
Potentially more significant, she rejected the group's contention that it is not required to disclose the source of its money. That conclusion, now being referred to the Attorney General's Office, could prove crucial in terms of voters finding out exactly who is trying to influence the outcome of key races -- and then being able to judge the messages based on the source of those funds.
The chances of that occurring before the Aug. 26 primary, however, are slim. And that means the source of money they have spent -- much of that to make Justin Pierce the Republican nominee for secretary of state and Doug Little and Tom Forese to be the GOP contenders for the Arizona Corporation Commission -- will remain shielded until at least after the votes are counted.
That also does not count about a dozen other Republican legislative races around the state where the Free Enterprise Club is spending money in hopes of influencing the outcome.
Even after the primary, it is likely the organization will continue spending money -- and not file disclosures.
Attorney Mike Liburdi who represents the Free Enterprise Club, said he believes his client is legally entitled to make the expenditures without providing more details. And that means if the Attorney General's Office demands disclosure, the case will wind up in court.
But if the club eventually loses, it could be required to repay three times the amount it collected without reporting the source.
Central to the issue is that the Free Enterprise Club is organized under section 501(c)(4) of the Internal Revenue Code, essentially a classification reserved for social welfare groups.
"This organization, which has existed for nine years, is not organized -- and that's the word used in the statute -- is not organized for the primary purpose of influencing elections,' Liburdi said. "It's a social welfare advocacy educational association.'
And that, he said, means the disclosure laws do not apply.
At least part of the club's argument is that it is spending less than half of its cash on the race -- or at least that has been the case until now.
According to Liburdi, between January 2013 and this past Aug. 8 -- the current election cycle -- it had spent about $3.4 million. At that point its political expenses were just $1.27 million, or just 37 percent of the total.
But Estes-Werther said a request for more detailed information provided only a general response. Liburdi said that was because her office would not agree to keep the information it got confidential and not have it become part of the public record.
And Estes-Werther was particularly skeptical of a claim that a recent administrative reorganization represented a "substantial portion' of the club's activities. Aside from that lack of detail, she said that "reorganization' amounted to "removing a founder's name from the website and amending corporate forms.'
"It is not reasonable to believe that this activity in addition to the other categories listed totals $1,240,970 of expenditures,' she concluded.
There's another factor at work: Liburdi's statement that only 37 percent of the club's money was spent on campaigns does not include what it has spent to influence voters on other issues since January 2013.
Republican corporation commission candidates Vernon Parker and Lucy Mason, both targets of Free Enterprise Club spending, detailed in a letter Monday to the Attorney General's Office that they have found another $263,250 the club has spent on a Phoenix initiative on the city pension system, $140,000 on a Glendale tax election and $50,000 to kill a now-unnecessary statewide referendum dealing with changes in election law.
All that, couple with spending on legislative races, takes the club's political expenses above 50 percent, they said.
Liburdi disputes the pair's contention that spending on local ballot measures counts. But he argued that, either way, it does not matter. In fact, Liburdi said, the club could spend virtually all of its money on commercials and still qualify as a social welfare organization exempt from campaign finance laws.
He said a group might be spending 95 percent of its time and "sweat equity' on behalf of some cause but then put 80 percent of its cash into trying to influence a major political race. He said it would not be fair to decide that spending converts a social welfare group into a political organization.