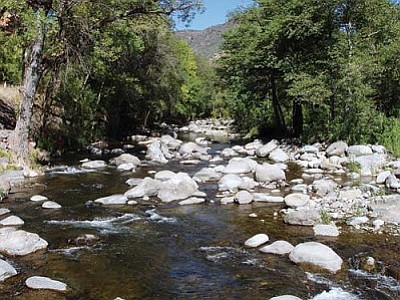 Originally Published: August 21, 2014 1:29 p.m.
Clean Water Starts with Me
Sept. 5
The Red Rock Ranger District is hosting this special program presented by the Oak Creek Ambassadors, entitled "Clean Water Starts with Me." The Ambassadors have been visiting heavy-use sites within the Oak Creek corridor throughout the summer, greeting visitors, picking up litter and speaking about ways to reduce E. coli bacteria levels in the creek. This program will share how certain recreation behaviors can help to improve water quality within Oak Creek. This program is sponsored by the Coconino National Forest, The Oak Creek Water Coalition and the Arizona Natural History Association.
The program starts at 11 a.m. at the Red Rock Visitor Center, located on State Route 179, one mile south of the Village of Oak Creek. Call (928) 203-2900.
Lunch at the VFW
Aug. 23
On Saturday, VFW Post 6739 will serve Indian tacos, beans, Spanish rice and lots more sides from noon to 4 p.m. for a $6-per-lunch donation. The proceeds will go to Youth Activities. Members and Guests welcome.
GriefShare support group in Cottonwood
Sept. 2-Nov. 25
After the funeral, when the cards and flowers have stopped coming, most of the people around you return to their normal lives. But your grief continues and you feel alone. GriefShare support groups are led by caring people who have experienced grief and have successfully rebuilt their lives. Seminar sessions include "Is This Normal?" "The Challenges of Grief," "Grief and Your Relationships," "Why?" and "Guilt and Anger." GriefShare grief recovery seminar and support group will meet at River Community Fellowship, Tuesdays at 6:30 p.m. The church is located at 497 South Willard in Cottonwood (on the hill south of Willard and 89A). For more information, contact Anita Shehi at (928) 567-1415 or Cathy Swenson at 202-6605.
Edward Jones hosts free estate-planning seminar
Sept. 4
Edward Jones Financial Advisor Amy Brown of Cottonwood is hosting a free 60-minute educational seminar titled "Preparing Your Estate Plan" at 10 a.m. Thursday at Verde Valley Manor, 3400 E. Godard Road, Cottonwood. The presentation will be in Godard Hall. Amy Brown will present this seminar along with Alma Maria Dumitru, a local estate planning attorney.
During the seminar, participants will learn more about: What to consider when creating a will; Benefits of trusts in estate planning; How to help reduce taxes on one's estate; How insurance can help protect one's family.
Couponing 101 at Cottonwood Public Library
Sept. 6
Want a crash course in couponing? Want to learn how to save hundreds of dollars on your monthly grocery bill? Join Cindi on Saturday from 10:30 a.m. to 12:30 p.m. at the Cottonwood Public Library and learn how to save money on your groceries and keep your pantry stocked for a fraction of the price. Learn tricks and techniques for getting groceries, toiletries and drug store items cheap and even free by using coupons and sales.
The library is located at 100 S. Sixth St. in Cottonwood. There is limited space, so sign up today at the Reference Desk or call 918-634-7559, ext. 100.
American Legion 135 sets 2014 Membership Initiation
Sept. 7
The American Legion Post 135 and Auxiliary announced their annual joint Initiation Recognition Lunch. The event will be held at Vintages Grille located at 5155 N. Dave Wingfield Road, Rimrock, on Sunday beginning at 2 p.m. Seating is limited to 50 and open to all members, not just those being initiated into the post or unit. Cost is $15, including tax, gratuity, coffee or tea. Dinners will be paid at the event, but all reservations must be made in advance.
The purpose of the event is a rite of passage ceremony marking the entrance into the American Legion and/or American Legion Auxiliary. Call Jeri Strande by Sept. 1 at (928) 649-3374 or Patty Eames at (928) 821-3894 to make reservations and menu selection.
Fiesta del Tlaquepaque
Sept. 13
The 41st annual Fiesta del Tlaquepaque, a celebration of Mexican Independence Day, is Saturday from 10 a.m. to 5 p.m. in Sedona. The plazas of the arts & crafts village will be filled with music, dancing and food. There will be free face painting and balloon twisting from 11 a.m. to 5 p.m. Extra parking is available in the uptown municipal parking lot.
The all-day event is free. Tlaquepaque is at 336 SR 179, Sedona. Call (928) 282-4838 or visit www.tlaq.com.
Free public tours of Clark Memorial Clubhouse
Sept. 17
The Clubhouse was built as a memorial to William Andrews Clark at his bequest of $100,000 at the time of his death in 1925.
Plans were overseen by his son Charles and grandson William A. Clark, III, and completed in 1927.
The building contains an auditorium, ladies lounge, kitchen, reading room (the first library in Clarkdale), and the men's lounge. Still furnished with many original pieces, the building or specific rooms can be rented for special occasions.
This magnificent building is the subject of free tours on the following days: Sept. 17, Nov. 19, Jan. 21, March 18 and May 20. Meet at the Clarkdale Historical Society and Museum located at 900 First North at 9:45 a.m. to start the tour. Donations are suggested. For more information, call (928) 649-1198.
Yoga fund-raiser for Cameroon orphans
Sept. 19-21
Tiana Hill, Dr. Danielle Lewis and Michelle Despain are participating in "Helping Hands Yoga and Wellness Retreat" at Sedona Mago Retreat Center to benefit 200 Orphanages Worldwide's work providing safety and shelter for HIV/AIDS orphans in Cameroon, West Africa. Registration is open to all interested participants at www.200orphanagesworldwide.org/yoga.html.
More like this story