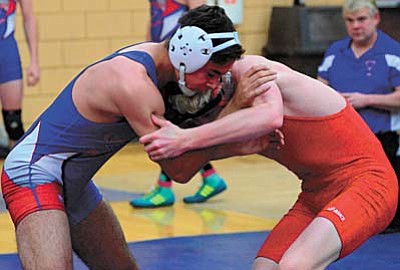 Originally Published: December 23, 2014 10:56 a.m.
Camp Verde High School wrestling has been as strong as usual this season. This past weekend, the Cowboys continued their success. They wrestled at a tournament at Window Rock High School. Camp Verde came in first.
The Cowboys didn't just win. They dominated. None of the scores were close. They also had a lot of pins. In fact, 57 out of the 113 total wins for Camp Verde were buy pins.
The results were, Camp Verde 84, Pinion High School 0. Camp Verde 66, All Stars 15. The Cowboys also beat Hopi High School 78-6. Camp Verde defeated Shiprock High School 72-12. They beat Chandler Preparatory 84-0 and Pinion High School 84-0. The Cowboys topped Chinle High School 58-21. They beat Red Mesa High School 66-6. And Mt. Point High School 51-28.
Some Cowboys who did well individually include freshman Skyler Pike. Pike won outstanding wrestler for the tournament.
Also Hayden Uhler, Ezekiel Casillas, Matt Mejia, Ryan Allred and Jeremy McEachern all finished first in their respective weight classes.
The Cowboys are now on winter break. They have the Mile High tournament in Prescott just after the start of the new year.
"It's not really a break for us as far as practices," said head coach Tracy Tudor. "We need to open up the runs and get our guys in a little bit better shape. We need to be in the best shape we can be in."
The Cowboys have been without one of their best wrestlers for two tournaments now. Junior Alex Casillas injured his knee when Camp Verde wrestled Sunnyside High School (Tucson). Casillas hasn't wrestled since.
But, Tudor said Casillas seems to be coming along well.
"It's looking pretty promising," Tudor said. "His knee is feeling a lot better. He practiced today (Monday.) He looks forward to wrestling in the tournament (Mile High tournament in Prescott). I don't see any reason why he won't."
Alex Casillas' younger brother Ezekiel has had a solid season. He hopes to improve from last year. He hopes to improve from last year where he placed fourth in his weight class.
"The kid is an absolute stud," Tudor said. "And he's wrestling at least two weight classes above what he normally weighs. He's doing it for the team. He could go down two weight classes. But, like I said he's a team player. He's still dominating the competition. He's just, a lot of heart. He's a very tough kid."
Ezekiel Casillas is currently in the 126 pound weight class. Since he weighs less than that, Tudor said that gives him some advantages other wrestlers don't have.
"He gets to enjoy his diet," Tudor said. "He gets to eat what he wants to eat. He's pretty happy. He doesn't really have to diet down or anything."
Tudor added another advantage Ezekiel Casillas enjoys is his strength.
"He's a really strong kid," Tudor said. "He gets to show case his strengths. Which is he's a physically aggressive and strong wrestler."
But, Tudor said Ezekiel and his older brother Alex are very different wrestlers.
"The two are totally opposites," Tudor said. "They're both very smart kids. But, Alex (Casillas) is more of the thinker. Really does it without a lot of muscle on his body. He's a pretty slim kid. He's just hard to wrestle because he's so technical."
Tudor added Ezekiel Casillas relies more on aggression.
"Ezekiel is just so aggressive," he said.
Another great wrestler is Allred. The senior has only lost one match ever. And is on pace to being a four -time state champion.
"I told my team if you want to know how to wrestle and how to practice, if there is one guy you want to model yourself after," Tudor said. "Ryan (Allred) is just an extremely aggressive athlete. He competes harder than most people. He's elite. He's a college type athlete."
It's very possible Allred will be a college wrestler next year. And that might even be at a Division I program.
More like this story