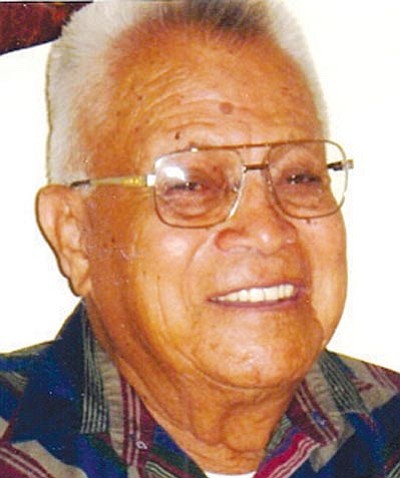 Originally Published: February 2, 2014 10:35 a.m.
Ernest Smith, 85, of Camp Verde passed away on Wednesday, January 19, 2014 in Cottonwood, AZ.  He was born on July 10, 1928 in Clemenceau, Cottonwood, AZ to Thomas and Lilly Smith.
 He attended elementary school at the Clemenceau/Cottonwood School and high school at the Phoenix Indian School.  After school he worked as a Fossil Creek flume repairman and was an APS employee for 32 years.  He was a farmer and rancher and a lifelong entrepreneur and a partner for 32 years in Ernie's Mini Mart.
Ernie was a coach for the Sedona Red Socks from 1962-1982, he was a Tribal Council Member and an avid community wide philanthropist.  He was a role model and a leader for his community.  Ernie enjoyed watching and cheering on the Camp Verde Cowboys' finest athletes.  He was an excellent hunter, fisherman, friend and above all, a family man who loved his family.
Ernie was preceded in death by his brothers, Buddy, Ted, David and Victor; his sisters Rbeckah Smith, Mary Garner and Hazel Beauty; his wife, Bernice Sine-Smith; his daughters Doris Ann (Bogie) Smith and Ernestine Gardner; and his son Henry Ernest Smith.  He is survived by his sister, Elizabeth Rocha; his daughter, Donna Nightpipe; his sons, Norman Smith, Ray Smith and Michael Pusher; 15 grandchildren, 20 great-grandchildren, 9 great-great grandchildren and many nieces and nephews.
A funeral service will be held on Monday, February 3, 2014 at the Yavapai-Apache Nation Gymnasium at 2400 W. Datsi on the Middle Verde Reservation at 10 AM.
An online guestbook is available to sign at www.westcottfuneralhome.com.
Information provided by survivors.
More like this story