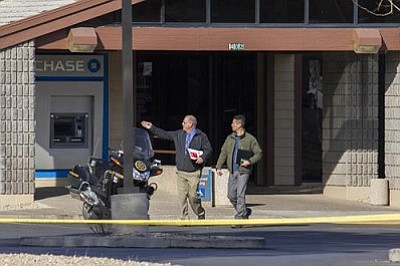 Originally Published: February 4, 2014 4:44 p.m.
CAMP VERDE - A robber ran off with an undetermined amount of money from Chase Bank in Camp Verde Tuesday. Camp Verde Marshal's Office was called to the scene around 12:30 p.m. with a report of a bank robbery in progress.
According to the report, he walked up to a teller and demanded money.
By the time deputies arrived, the suspect had fled on foot. Deputies searched the area but did not find the suspect. No one in the bank was injured.
The suspect is described as a white male, around 50 years of age with gray hair. He was wearing a plaid heavy Carhartt-style jacket, blue jeans, a light-colored baseball cap with a dark brim, gloves and sunglasses.
Chase Bank is at 402 W. Finnie Flats Road.
CVMO detectives are working jointly with the FBI in the investigation. If anyone has information regarding this incident, please call the Camp Verde Marshal's Office at 928-554-8300