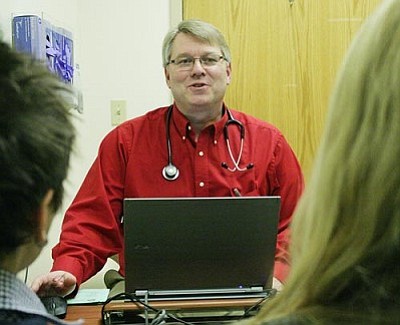 Originally Published: February 8, 2014 1:36 p.m.
CAMP VERDE - Growing up, John Rooney thought he would work in the oil business - with his father.
He even worked one year for his father ... while applying for medical school.
"I heard a lot of people in their 30s say, 'If only I ... ," says Rooney, D.O. at the Verde Valley Medical Clinic - Primary Care, a service of Verde Valley Medical Center. "I wanted to help people. Today, if I were to look back, I would do the same thing. I love being a doctor."
Dr. Rooney starts work at 7 a.m., preparing to see patients by 8 a.m. On a typical day, Dr. Rooney sees 18-28 patients. As many as five are new patients.
As a doctor of osteopathic medicine, Dr. Rooney is licensed to practice the full scope of medicine and surgery. Dr. Rooney does not focus solely on the disease; he says that he focuses on treating the whole person.
For close to 18 years, Dr. Rooney has been a doctor. Since October 2012, he has worked at VVMC.
It was at age 34 when Dr. Rooney felt the calling of the medical field. He received his medical degree from Kansas City University of Medicine and Biosciences in Kansas City, Mo.
After four years in medical school, Dr. Rooney completed his residency in family practice at Ohio University's Mercy St. Vincent Medical Center in Toledo, Ohio, serving as chief resident in 2001-2002. After his residency, Dr. Rooney spent 12 years in Finley, Ohio, in private practice, on staff at Blanchard Valley Hospital, and as the medical director of a paramedics urgent care before coming to VVMC.
Dr. Rooney says being a "very caring person" is one of his strengths as a doctor.
"I listen to my patients," he says. "I really take care of them. That is the philosophy of why I chose [to be a doctor]. I'm going to listen to you, help you, guide you, educate you."
Dr. Rooney says his bedside manner is one of patience.
"I do try to let my patients know that I care," Dr. Rooney says.
Dr. Rooney is pleased with the technology that VVMC provides its doctors. Medical records are kept on laptop computers, including prescriptions, referrals and labs.
"We can take care of a patient's health care with the computer," Dr. Rooney says. "But nothing beats hands-on care."
Follow Bill Helm on Twitter @BillHelm42 and Instagram @VerdeValleyNews