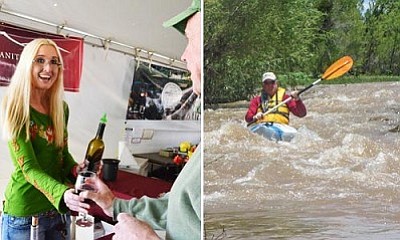 Originally Published: February 8, 2014 1:43 p.m.
CAMP VERDE - For the past 13 years, the Pecan & Wine Festival offered a weekend of wine, pecans and song.
Beginning this year, Pecan & Wine will be part of a bigger celebration.
The Town of Camp Verde and its partners recently announced that the 2014 Spring Heritage Pecan & Wine Festival will take place in downtown Camp Verde on Saturday, March 29, and Sunday, March 30.
The Spring Heritage Pecan & Wine Festival will include the Pecan & Wine Festival, Verde Valley Archaeology Fair, Verde River Runoff canoe and kayak race, and various activities surrounding the Arizona State Parks Archaeology and Heritage Awareness Month celebration. Admission to all events is free, but charges will apply for Runoff participants and wine tasting.
To put on the Spring Heritage Pecan & Wine Festival, the Town of Camp Verde will partner with Arizona State Parks, Camp Verde Historical Society, Camp Verde Promotions, Verde River Valley Nature Organization (VRVNO), Verde Valley Archaeology Center and Verde Valley Wine Consortium.
Camp Verde Economic Development Director Steve Ayers says combining the three events into one weekend spectacular creates a "better synergy" for the town.
"Instead of several events, we wanted one, big event that caters to a wider audience," Ayers says. "This will bring people downtown and maybe people would find other things to do in Camp Verde."
In previous years, the Pecan & Wine Festival had been a constant in February's calendar of events. Ayers says it made sense to pair Pecan & Wine and the Verde River Runoff with the Verde Valley Archaeology Fair, an event that is annually scheduled for the end of March.
"There was already a lot of publicity in place for the Verde Valley Archaeology Fair," Ayers says. "So we coordinated with that."
The Verde River Runoff is a 10-mile canoe/kayak race/fun-run from White Bridge to Beasley Flat. It was originally named the Canoe Challenge in 2000. Participants launch from the White Bridge River Access site at 10 a.m.
As part of the weekend festival, Fort Verde State Park will not charge admission on Saturday and Sunday. Also, the Camp Verde Historical Society Museum will be open, as well as the 1917 George Hance House and the 1933 Camp Verde Jail.
For more information, go to http://visitcampverde.com, http://www.campverdepromotions.org or http:// www.VRVNO.org. If you'd like to be a volunteer for VRVNO, contact Bruce Maurer at ionicb@hotmail.com.
Follow Bill Helm on Twitter @BillHelm42 and Instagram @VerdeValleyNews