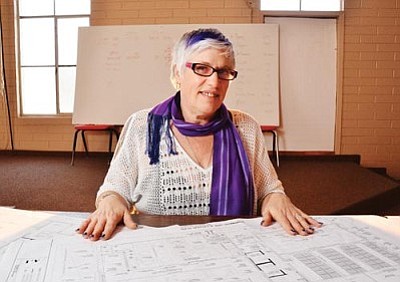 Originally Published: February 11, 2014 2:26 p.m.
Wine sloshes around the bottoms of spittoons in the Verde Valley, replacing the typical cowboy backwash with samples from a growing industry.
Four tasting rooms sit almost next to each other in Old Town Cottonwood. Justin Ove, assistant manager and event coordinator for Arizona Stronghold, said if more than one tasting room is on the agenda, don't be afraid to spit.
After going to even just the four tasting rooms in Old Town and trying six wines at each, that's 24 wines for a total of a whole bottle of wine, at which point, Ove said everything tastes good.
"If you're going to more than two places, in some cases it you're only going to two places, utilize the dump buckets," Ove said. "That's what they're there for. People think they're wasting the wine when they pour it out or if they spit it out, but really you're saving your palate."
People will go to six tasting rooms in a day, buying wines at the last couple, and then be disappointed when they get home and realize the wine isn't as good as they remember.
"You're saving yourself so you will be a better judge of the wines that are good," he said. "To maintain your own judgement, I'd recommend spitting the wine, spitting anything that you don't like and no one's going to get offended by that."
Ove said many people are embarrassed to dump or spit wine for the first time.
"It's something you just kind of have to work through and get over," he said. 
Jason Dudley serves wine in the Old Town tasting room. He said the tasting room has affordable flights for people to try, from all white to all red, and every customer is given the same background information about the winery.
Dudley said he will occasionally try a wine with a customer and spit, to make them feel more comfortable. 
"It's just survival, in some aspects," Dudley said. "In terms of actually picking apart the wine, my palate is done by 10 tastes."
It's also helpful to pick up some of the lingo, Ove said. Ask the tasting room servers questions, find out what sweet, dry, fruity and earthy mean.
"If you develop a little bit of a vocabulary, that's really going to help you find a wine," Ove said.
Grapes like the dry and hot during the day, Ove said, with the cold desert temperatures at night cooling the grapes and boosting acid retention in the grapes, much like the coastal breeze does for Napa Valley vineyards. 
"Arizona wine is its own thing and it has kind of its own right in the wine world," Ove said. "We're not trying to be like another area, we're not trying to mimic other wines."
Soil, climate and community make up the terroir, or the many elements that influence the way a wine will taste. Ove said an Arizona Stronghold does not grow grapes meant to taste like wine from Washington or California.
"We're allowing the terroir to act through the grape," Ove said. "Chances are, from what we've seen, it tastes like none of these things because it's its own climate."
Ove travels to wholesalers and events for Arizona Stronghold, and one of the first things he explains to people is how perfect the weather is for growing wine grapes. Most people tend to think of Arizona as one giant desert, with rocks and cacti covering it.
"They don't realize there are ski resorts here, we have mountains and snow, we have not only that extreme and the desert extreme, but you have the in between, and that's pretty much where we grow," Ove said. "The more you look at it the more it's evident that it's a great place to grow grapes."
The rocky soil in the Verde Valley prevents the roots from being constantly soaked in water by allowing water to drain away.
"There's a reason we don't grow wine in the rainforest," Ove said. "They don't like having wet roots."
Ove said he recently put Arizona Stronghold wines in front of a level-three Sommelie, a restaurant's wine steward who takes a customer's taste and food choice into account to recommend a bottle to go with dinner.
This sommelie is trying to become a master who can pinpoint the varietal and the region of a particular wine. After his blind taste, Ove said he thought Arizona Stronghold was an Italian wine. 
European wines tend to be more restrained with higher acidity than "New World" wines, Ove said. In the U.S., people tend to gravitate toward bigger and bolder flavors. 
"In Italy and France, it's part of their culture to have wine with the meal," Ove said. "But you don't want a wine that's going to overpower and kill whatever you're eating."
Arizona Stronghold vineyards are in Willcox, where at least 70 varietals are in various stages of quality.
"We focus on where our strengths are, and that's grapes that do well in hot and dry climates," Ove said.
Reds like cabernet souvignon and shiraz grow well in Arizona, as well as Italian and Spanish varietals like sangiovese, while delicate pinot noir grapes grow in milder climates like New Zealand. 
Arizona Stronghold has a blend based on Bordeaux, France, where five types of grapes are grown and blended. A Tuscan blend with a sangiovese base and added merlot, cabernet and a few other varietals also grows well in Arizona. 
"They know that there's strength in those varietals when they blend together," Ove said. "We do a similar blend to that as well because it works here."
Paula Woolsey teaches viticulture and enology students at Yavapai College about the intangible aspects of making wine, like the history and the laws that govern its sale. 
Vice president for the Verde Valley Wine Consortium and sitting on several boards in the Verde Valley, she went from working at Arizona Stronghold to partnering with Lisa Rhodes, business manager at several local wineries, and Tim White, a celebrated Arizona winemaker, to begin construction on Revelation Wines.
Former owner of the Asylum restaurant, she said people would expect her to take a church building off Main Street and start putting in Cottonwood's first working winery and tasting room. 
Woolsey said it's important for those just discovering wine to realize that Arizona bottles cost more than many of the wines that have been made in regions for hundreds of years. 
"It costs a lot of money to make wine in Arizona," Woolsey said. "We don't have the infrastructure yet to put out $5, $8, $9, even $10 bottles of wine."
States like California have wholesalers who are licensed to sell wine to all the states in the U.S., something Arizona does not yet have. Four Eight Wineworks is still working, along with other stakeholders in the Verde Valley wine industry, to put laws in place that allow for an alternating proprietorship.
Woolsey said state laws and basic needs, like a local barrel maker, would cut down on some of the costs that come with financing a wine industry from the ground up.
Our Lady of Questionable Decisions, a 2014 Revelation wine, will initially sell for $15, which Woolsey said is a low price for an Arizona wine. 
People's first sips of wine are usually influenced by economics, family and friends, meaning an Arizona wine might not even be on the table. 
A changing diet and palate over time means people may start out drinking wine, whatever the age, and evolve their tastes. When someone says they like sweet wines, Woolsey said she likes to give them fruity wine to taste so they know the difference between the sweetness of sugar and the sweetness of the grapes. 
Most labels don't carry a laundry list of information on the back label anymore, but instead direct people online to find out more. Woolsey said if a person tastes a wine and likes it, they should look it up.
"Nowadays, you don't have to put much on the back of the label because if they want to know the oak treatment and the bricks and the alcohol, it's right at your fingertips," she said. "If you care about that stuff, you're going to go find it out."
Follow the reporter on Twitter @ymgonzal and Instagram @VerdeValleyNews