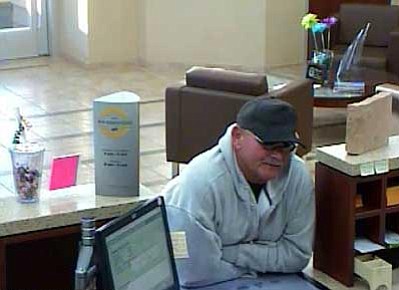 Originally Published: February 22, 2014 3:02 p.m.
A Yavapai County man faces three bank robbery charges after law enforcement officers caught up with him Saturday.
The robberies took place at the Chase Bank in Camp Verde on Feb. 4, Bank of America in Cottonwood on Feb. 11, and National Bank of Arizona along Highway 89 in Chino Valley late Friday afternoon.
The suspect is Kevin Lee Campbell, 53. A Chino Valley police spokesman said Campbell is a resident of Yavapai County, but wouldn't name the location Saturday, while police were in the midst of issuing search warrants.
None of the bank tellers reported seeing weapons, Chino Valley Police Lt. Vincent Schaan said. However, the tellers felt threatened.
While Schaan wouldn't divulge the amount stolen in Chino Valley, he said it was in the four figures and it has not yet been recovered.
Campbell was arrested without weapons or resistance, Schaan said.
Arizona Department of Corrections records show Campbell was released from prison in January 2012 after serving time for robbery, theft, aggravated assault and forgery in Mohave County.
Campbell allegedly ran on foot from the Verde Valley robberies, but on Friday quick-thinking employees at the National Bank of Arizona in Chino Valley were able to get the license plate number from the robber's vehicle as he fled at about 5:50 p.m.
The plate number and vehicle description were sent out to law enforcement agencies and, within minutes, a Department of Public Safety officer spotted the vehicle going south on Highway 89 between Chino and Prescott.
When the patrol officer tried to stop the suspect, a high-speed chase began. The officer ended the chase to avert a dangerous situation.
"The driving of the suspect during the pursuit was erratic and his speeds were in excess of 75 mph as he entered a heavily populated area" on Willow Creek Road near Willow Lake Road in Prescott, Schaan said.
The suspect's tan/gold 2002 Chevy Trailblazer was registered to a Kingman woman. Kingman police went to her residence and learned that Campbell had been in possession of the vehicle since their relationship ended in October 2013.
When the ex-girlfriend was shown a photo from the bank surveillance video, she identified the man as Campbell, Schaan said.
The Yavapai County Sheriff's Office located the vehicle at 4 a.m. Saturday, Schaan said, but he wouldn't provide the location at this time.
"The vehicle was unoccupied but deputies believed they saw the suspect in the area," Schaan said. "The suspect was fleeing on foot and had jumped several fences."
Officers searched four hours before finding Campbell at a residence, Schaan said. He said it wasn't Campbell's home, but he wouldn't provide more details at this time such as the location, whether Campbell was inside or outside the home, or if Campbell broke into the home or not.
Police think Campbell is the same suspect from the two Verde Valley robberies, Schaan said. The suspect was caught on surveillance cameras at all three banks.
Chino, Camp Verde and Cottonwood police are working with the FBI on the case.
Follow Joanna Dodder on Twitter @joannadodder
The Camp Verde Marshal's Office identified the suspect in recent bank robberies as being from Cordes Lakes.
Kevin Lee Campbell, 53, was arrested Saturday near Spring Valley after a pursuit and manhunt stemming from a bank robbery in Chino Valley on Friday afternoon.
Campbell is suspected in earlier bank robberies in Camp Verde, Cottonwood and Mohave County.
According to CVMO, when Campbell was arrested by Yavapai County Sheriff's deputies, they also searched homes in the Mayer and Cordes Lakes area, as well as a vehicle driven by Campbell. The search warrants reportedly turned up evidence linked to the robberies.
More like this story