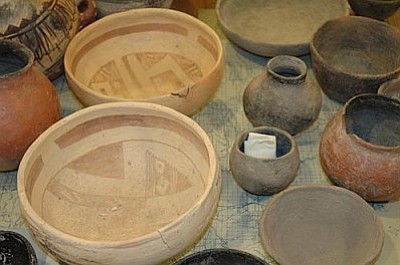 Originally Published: February 28, 2014 4:23 p.m.
Rumors to the contrary, there will be pecans and there will be wines in Camp Verde.
The Town of Camp Verde and its partners are hosting the 2014 Spring Heritage Pecan & Wine Festival in downtown Camp Verde on Saturday, March 29, and Sunday, March 30. Festival hours are from 10 a.m. to 6 p.m. on Saturday and from 10 a.m. to 5 p.m. on Sunday.
Check out http://visitcampverde.com/
The Festival is actually a handful of events rolled into one, including:
1) Camp Verde Pecan and Wine Festival,
2) Verde Valley Archaeology Fair,
3) Verde River Runoff canoe and kayak race
There will be a host of activities surrounding the Arizona State Parks Archaeology and Heritage Awareness Month celebration. Admission to all events is free. Charges only apply for wine tasting and race participants.
The Pecan & Wine Festival, which has been around since 2001, has been moved from February to the last weekend in March. It features the choicest product of the vintner's art from 12 of the Verde Valley's premier wineries. There is a $12 charge for wine tasting that includes five sample tickets along with a commemorative wine glass that is yours to keep. WOW Bubbles is returning and there will be a kite-flying contest for the kids. There will be music throughout the weekend, a pecan catapult contest and a peca- shelling contest. There will also be a pecan pie contest. If you are interested in entering the contest, pies must be delivered to Fort Verde State Historic Park on the 28th, must be home baked and in a plain pie tin. Cash prizes will be awarded. Call 928-300-0179 to register.
The Verde Valley Archaeology Fair is two exciting days of archaeological adventures. Experience the excitement of uncovering the past with dozens of activities, live presentations, films and special programs. The VV Archaeology Fair is a family event with plenty of hands-on archaeology for kids. All activities are presented by archaeologists, educators and other specialists.
The Verde River Runoff is a 10-mile canoe/kayak race/fun-run from White Bridge to Beasley Flat. Originally begun as the Canoe Challenge in 2000, the 10-mile long race has become a favorite for boaters throughout the state. Racers launch from the White Bridge River Access site at 10 a.m. on Saturday, March 29.
In addition to the major events, the Camp Verde Historical Society will open the historic 1933 Camp Verde Rock Jail with members of The Arizona Artist Blacksmith Association will be demonstrating using basic blacksmithing tools. Cliff Castle Casino is helping to provide parking and free shuttles.
Fort Verde State Park will waive the fees for both days, plus on Sunday the 30th, they will be conducting a Welcome Home Vietnam Veterans Ceremony.
Partners for this year's Spring Heritage Pecan & Wine Festival are:
Town of Camp Verde http://visitcampverde.com/
Camp Verde Promotions http://www.campverdepromotions.org/
Verde Valley Wine Consortium http://www.verdevalleywineconsortium.com/events.html
Verde Valley Archaeology Center http://www.verdevalleyarchaeology.org/fair
Verde River Valley Nature Organization http://verderiverrunoff.org/
Camp Verde Historical Society http://visitcampverde.com/
Fort Verde State Historic Park http://azstateparks.com/parks/fove/events.html
Summer Place Pecan Farm http://www.summerplacepecanfarm.com/
More like this story