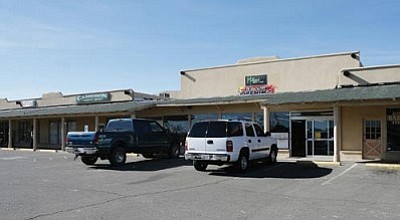 Originally Published: January 7, 2014 2:20 p.m.
CAMP VERDE - With hot buttered popcorn and smiles for their customers, Melissa and Josh Mathews opened Mathews Resale Shop less than a year ago at the 4R Business Park in Camp Verde.
It did not take long for Melissa and Josh to need a larger space for their inventory. On Dec. 20, Mathews Resale reopened in a 10,000-plus square foot space at Fort Verde Plaza.
"People are always walking around downtown Camp Verde," Melissa says. "I think it's really cool to be in the old Fairway building in the heart of Camp Verde. I'm happy to be in this spot."
Josh says that visibility is much better at the store's new location.
"I think we're doing all right," Josh says. "People who saw the store [at the previous location] say this looks great."
With books, clothing, dishware, games, DVDs and CDs, furniture, shoes and stuffed animals, as well as arts and craft supplies, Mathews Resale has a diverse selection of items for its customers. And plenty of space to shop.
"One of the reasons for the larger space is to have more room for vendors," Josh says. "We now have a nice, big second-hand store. We can keep our aisles wide, so people don't feel claustrophobic."
Close to 10 percent of the store's inventory is consignment items, says Josh, who hopes to see that figure eventually reach 50 percent. Vendor booths are priced monthly by the foot, plus a 10 percent commission. To rent a smaller space, shelving unit displays are available at $40 per month, plus a 10 percent commission.
Mathews Resale has also committed store space for local artists who wish to sell their work. Artists pay a flat 30 percent commission fee, with no monthly rate.
Though business in the new location has been a little slow, Josh says, sales are actually better than in the first few weeks at the store's old site.
"This store is nice," says Cottonwood resident Joanne McKeever, shopping at Mathews Resale with her mother Beth Kennedy, also of Cottonwood. "They have good prices. We needed a place like this over here."
Melissa says she looks forward to keeping a good collection of inventory at Mathews Resale.
"I hope we can keep it new every time people come in, keep the prices down, keep it good quality," Melissa says. "And keep the popcorn going."
Mathews Resale Shop is located at 348 S. Main St. in Camp Verde. Hours are from 9 a.m. to 5 p.m. Tuesdays through Fridays, and from 9 a.m. to 6 p.m. on Saturdays.
-- Contact the reporter at bhelm@verdenews.com or follow the reporter at Twitter @BillHelm42