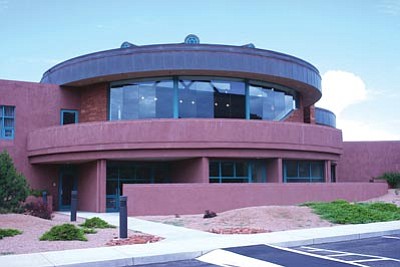 Originally Published: January 11, 2014 1:32 p.m.
Tu B'Shevat Seder at JCSVV
Jan. 19
At 11:30 a.m. the Jewish Community of Sedona and the Verde Valley's religious school families and synagogue members will participate in a Tu B'Shevat Seder, celebrating the New Year of the Trees, with an emphasis on tending the environment as a biblical injunction. Symbolic foods from Israel will be eaten, such as olive, dates, oranges, and almonds.
At 12:15 p.m. they will move outside for a tree-planting ceremony on the grounds of the synagogue. From 2 to 4 p.m. the whole community is invited to a free lecture about agricultural and environmental innovations in Israel. The representatives of the Jewish National Fund will make a presentation about how young people from third world countries are invited to study these techniques in Israel and return to their home country with useful knowledge to assist in establishing modern agriculture techniques in low water, desert conditions.
JCSVV is at 100 Meadowlark in Sedona. Call the office at (928) 204-1286 or visit www.jcsvv.org for more information.
A Musical Sunday Worship Service
Jan. 12
Sunday at 10 a.m., Don and Donna Mohl will bring their Christian musical program to the Camp Verde Community Church, 480 First St., Camp Verde. This talented couple have been presenting Christian musical programs around the country and have performed in many churches across the United States. Their music is a blend of "mountain" style and folk style gospel, playing traditional and Biblical instruments such as the Bowed Psaltery, Hammered Dulcimer, Mountain Dulcimer, Mandolin, Zither, Guitar and Harmonica. Visit their web site at: www.folkmountaingospel.com for additional information.
Bible Study in Camp Verde
Jan. 13
A Bible Study course focusing on the Family's "The Truth Project" will begin on Monday at 6 p.m. at the Camp Verde Community Church, 480 First Street, Camp Verde. This amazing Bible study is a DVD series taught by Dr. Del Tackett of the Focus on the Family Institute.
Anyone interested in leaning more about Bible studies is welcome to attend. If more information is needed, contact the church office at (928) 567-3447 Monday, Tuesday or Thursday, between 9 a.m. and noon.
Open Mic at My Dobro
Jan. 14
My Dobro in Cottonwood's Fry's Shopping Plaza hosts an open mic every Tuesday, 6-9 p.m., with host Ray Sealing.
Parenting classes in Camp Verde
Jan. 14
A series of free Parenting Classes are being offered to anyone interested at Camp Verde Community Church, 480 First St., Camp Verde, in Fellowship Hall.. The courses are each Tuesday evening through February 18, from 6 to 8 p.m. The course work is entitled "Parenting the "Love and Logic" Way and the six-week program will help give you answers to many of the basic issues parent's face daily. Free childcare will be provided during the sessions.
For additional information, call the Camp Verde Community Church at (928) 567-3447, office hours are Mon., Tues., Thurs. from 9 am to noon. Or visit the church web site at www.campverdeumc.org or e-mail at: campeverdeumc@gmail.com.
Red Rock Visitor Center showcases state-of-the-art exhibits
Jan. 15
The Red Rock Ranger District Visitor Center of the Coconino National Forest will host an all-day open house Wednesday to celebrate the completion of state-of-the-art interpretive displays. The open house will showcase the interactive displays and highlight the partnerships between the Forest Service, Federal Highway's Scenic Byway program, Sedona's Friend of the Forest, Arizona Natural History Association and the Sedona Community Foundation.
A ribbon cutting ceremony will begin at 9 a.m. with the all-day open house to follow. The visitor center invites the public and media to explore the exhibits and discuss the project with Forest Service staff and partners.
The Red Rock District Visitor Center is located at 8375 State Route 179, one mile south of the Village of Oak Creek and is open daily from 9 a.m. to 4:30 p.m. For more information, please call (928) 203-2900.
4-day school week parent forum
Jan. 29
Camp Verde Unified School District is hosting a parent forum on the proposed four-day school week on Wednesday from 6 to 7 p.m.
Information provided will include district-wide data on a four-day school week. Early reports were confined to the high school, but the district is looking at scenarios for each school.
The forum will be in the Philip England Performing Arts Theater in the Multi-Use Complex.
Humans and Bears, Myth and Reality
Feb. 7
The First Friday Talk at Red Rock Ranger District Visitor Center is " Humans and Bears, Myth and Reality," staring at 11 a.m.
Friends of the Forest volunteer Kevin Harding will examine bear behavior and human perception of bears. We will consider why we are afraid of bears and whether or not we should be afraid of bears. How can we reconcile our innate fears and cultural distortion of bears with the reality of how bears really behave.
No registration is required. The Red Rock District Visitor Center is located at 8375 State Route 179, one mile south of the Village of Oak Creek. For more information, please call (928) 203-2900.
Kidz Art Contest
Feb. 8-9
Peppermint Zebra in Sedona and Out of Africa in Camp Verde are sponsoring a Kidz Art Contest for Valentine's Day. The theme is "What Is Love?" as seen through a child's eye.
Submissions can be any kind of self-expression media, from drawings and sculptures to poetry. Submissions can be dropped off Feb. 8-9, from 10 a.m. to 6 p.m. at Peppermint Zebra at Hillside Sedona, 671 SR 179 (center level). There will be a two-day exhibit Feb. 12-14, and a party for exhibitors and families on Feb. 13, 5-7 p.m.
Call (928) 282-0220.
Buffalo Soldiers at Fort Verde
Feb.15-16
In celebration of African American Heritage Month, Fort Verde State Historic Park hosts the Buffalo Soldiers on Saturday and Sunday. Re-enactors honor the legacy of the all-black regiments that once served at Fort Verde. Activities will also include living history presentations, riding demonstrations and a vintage baseball game.
For more information, visit azstateparks.com/Parks/FOVE/events.html
KSB hosts Native Plant Workshop
March 8
Keep Sedona Beautiful presents the 35th Annual Native Plant Workshop, 8:30 a.m.-3 p.m., at West Sedona School, 570 Posse Ground Road. Advance tickets are $25 for KSB members and $35 for the general public. Included in the price of admission is breakfast savories, two keynote speakers, a choice of two hour-long workshops from the seven offered, lunch and the Silent Auction. Go to http://www.keepsedonabeautiful.org/our-programs/native-plant-workshop for additional information or call KSB, (928) 282-4938.
V Bar V Archaeology Discovery Days
March 22-23
The annual V Bar V Archaeology Discovery Days are 9:30 a.m.-3 p.m. each day. There will be demonstrations and hands-on practice of ancient technology including throwing atl-atls, making fire by friction, spinning and weaving cotton, making and firing pottery, learning about traditional use of plants, watch expert flint-knapping and learn about a wide array of ancient tool technology. Enjoy watching dancers from the Yavapai Apache Nation and more.
Red Rock Pass required for parking. V Bar V is located off Forest Road 618 on the right, just after Wet Beaver Creek. Call (928) 203-2900 for specific directions. No registration is required.
Spring Heritage Festival combines Camp Verde celebrations
March 29-30
The inaugural Spring Heritage Festival in Camp Verde is an all-encompassing two-day festival that includes the Pecan and Wine Festival, the Verde Valley Archaeology Fair and the Verde River Runoff kayak and canoe race along with activities related to Arizona State Parks' Archaeology and Heritage Awareness Month. Admission for all events is free. Race participation fees and wine tasting fees apply. The Town of Camp Verde and Fort Verde State Park will also host a Welcome Home Vietnam Veterans celebration on Sunday.
For more information, go online at visitcampverde.com/camp-verde-events/ and verderiverrunoff.org/
Watch for the Rotating Exhibit
Items for the Rotating Exhibit at the Camp Verde Historical Society Museum are still coming in from the community for the "What is it?" display. Visit the Museum Monday through Saturday 10 a.m. to 4 p.m. to see if you can recognize over 40 items from a bygone era. Since there are several articles on display for the first time, the "What is it?" exhibit will be held over until the end of February. Historical Society members are present at the Museum on Tuesdays to share memories with the public and answer questions.
The Museum is located at 435 S. Main in Historic Downtown Camp Verde. For information call (928) 567-9560 during Museum hours.
More like this story