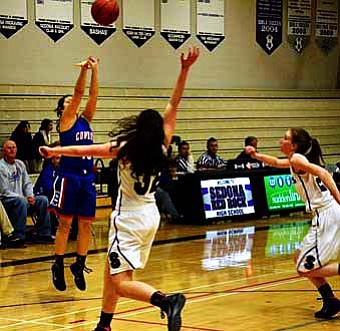 Originally Published: January 16, 2014 2:35 p.m.
With a 74-54 win over their rivals, the Sedona Red Rock Scorpions, the Camp Verde girls basketball team improved to 2-0 in section play and 7-2 overall (aia365.com).
"It's always nice to beat Chino Valley or Sedona, teams that have been our rivals for a long time, especially on their court," said head coach Mark Showers.
Coming off a good game against the Division-II No. 13 Bradshaw Mountain Bears, the girls controlled their contest against Sedona and showed they can handle and adapt to adversity.
"Well Bradshaw is one of the best teams in the state, Sedona's not," Mark said. "You play somebody like Bradshaw that has kids that are just big, strong, physical and good basketball players, for a little school like ours; we're lucky to survive that. I was pretty happy with how our kids played against Bradshaw."
Leading scorer Mariah Daniels, 23 points, propelled the Cowboys to an almost shutout in the opening stanza. Daniels scored Camp Verde's first eight points and seniors Caitlin Harris and Maddy Showers, 14 points for the night, added four and five respectively as Camp Verde rolled to a 22-6 first quarter.
"It felt awesome," Maddy said. "We had a couple losses our last games so it felt really good to get our momentum back."
Over the first four minutes of the second, the girls added to their lead, dropping eight more points before the Scorpions broke double-digits. Breaking that barrier gave the home team a spark and they closed out the quarter on an 11-9 run and the teams went into the break with the Cowboys up 39-20.
"Tonight I was really happy with the way our kids played," Mark said. "I thought they showed poise because ... Sedona would go on a little run and we'd shut it down. You know, they could have quit, they could have given up at times and they stayed with it."
When the teams returned from halftime, the Scorpions had a renewed sense of urgency. They opened the third stanza with a 7-0 run before Maddy hit a three and Sedona went cold. That ended the supposed rally for the Scorpions, who also went on a 3:30 scoreless run, and kicked off three consecutive treys for the Cowboys, Maddy's and two from Gabby Ontiveros, 15 points on the night.
"It felt really good [to socre what I did]," Ontiveros said. "It (the win) means a lot because they're our rivals."
Entering the final stanza, the Scorpions were down 58-35. The game seemed well out of reach for Camp Verde's rivals, but the home team kicked off the fourth by going on a 9-0 run before Daniels hit a field goal and drew a foul, also sinking her and-1. The fourth stanza was the Scorpions best quarter, they outscored Camp Verde 19-16, but it was not nearly enough to overtake the Cowboys.
"We kind of got rushed and we kind of threw the ball away, which allowed them to get on those runs, but our coach settled us down and we were able to calm down and take control of the game," Maddy said.
With the win, the girls improved to No. 23 at aia365.com. They have a game tonight, Jan. 17, at home against Glendale High School at 5:30 p.m. and follow that up with another home game, this one against Valley Christian at 1 p.m. on Jan 18.
"We're still working on consistency," Mark said. "Here we are in the second half of the season and we still haven't found our stride. I told them they have to not take breaks and I think that's one of the problems. Some of the runs that Sedona had was because somebody didn't box out, somebody didn't go play defense, somebody did something that caused Sedona to get an open look and get a score. We can't afford to do that, we've got to play hard for 32 minutes."
Follow me on twitter @verdesports for live game updates