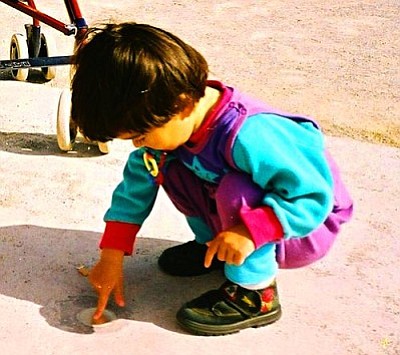 Originally Published: January 31, 2014 2:58 p.m.
PHOENIX -- A special team named to find out what led to 6,500 cases of child abuse going uninvestigated concluded Friday there was a "systemic failure, a lack of accountability and transparency and bad decision making."
The report by the Child Advocate Response Evaluation team found there was no specific statute, administrative rule, policy or even an agency procedure that would have allowed someone to mark that many cases being marked as NI, as is "not for investigation."
Yet Charles Flanagan, who heads the team -- and has since been named head of the new Division of Child Safety and Family Services -- said the practice managed to occur despite state laws requiring all complaints received to be investigated. And it went undetected for years.
Flanagan said it is clear there were insufficient checks on what occurred at Child Protective Services. He said what's needed is to give the agency's quasi-independent Office of Child Welfare Investigations access to everything that comes through the agency's call center.
"And there must be an independent inspections bureau,' the report reads.
Most significant, the team concluded that the decision to shelve those complaints was far from harmless. The investigations that have since been conducted have resulted in 407 children now being removed from their homes.
But cases that went uninvestigated are only part of what the team found.
More than a quarter of the 3,200-plus calls to a child abuse "hotline" were abandoned, meaning that callers hung up before someone picked up. That translates to nearly 850 calls not answered.
"While we know that many of these callers do call again, it is reasonable to assume that some do not,' the report states. "Even one missed report of abuse is significant."
And even when a caller gets through, that does not ensure there will be a proper response: Flanagan said investigators found 142 "failure points" between a call arriving at a the Hotline and closing an investigation -- 142 places where a report -- and a child -- could fall through the cracks.
"There is a lack of checks and balances,' the report says, including an inspection process "that is independent of the chain of command being inspected.' That, however, is only part of the problem.
"There is too much individual discretion in deciding making and review,' the report says.
And Flanagan said that many abuse reports that do come in "will sit uninvestigated until resources are available.'
According to Flanagan that shortage of investigators creates "an unwinnable game,' with investigators frustrated by the lack of sufficient staff to handle the caseload. And that, in turn, contributes to high employee turnover -- one in five employees will leave each year -- which then results in the agency having to hire and train new caseworkers.
Lawmakers moved to address some of that this week by approving funds to immediately hire 126 new caseworkers on top of the 1,194 already authorized.
Aside from categorizing what has and can go wrong, Brewer also asked the task force to look at what's needed to prevent a repeat of what was an embarrassment to the administration.
At least one of the recommendations already has been at least partly carried out.
The team said the state should "create an agency that is laser-focused on the core mission of child safety with direct accountability to the governor.'
Brewer already has effectively abolished the old Child Protection Services division of the Department of Economic Security and replaced it with the new Division of Child Safety and Family Services, naming Flanagan And he will report directly to her rather than the DES director.
Brewer now is asking the Legislature to complete the process by creating an entirely new department.
But the task force report also contains a controversial recommendation that when the current CPS employees are transferred to the new agency that they lose all of their merit protections that give them certain rights when a supervisor seeks to discipline or fire them. But Flanagan and the team say the change is justified, focusing on the other side of the equation: raises.
"Such a move would allow for the department to reward good employees for performance and provide incentive for retaining the best employees,' the report reads.
Among other findings:
- Make better use of local police departments to help ensure that all complaints of abuse are investigated. The report calls law enforcement "a critical and underused partner.'
- Create "multi-disciplinary teams embedded in the community,' to take a closer look at complaints. This would include not just law enforcement but also criminal investigators within the state's child welfare agency, social workers and others involved in offering social services.
- Provide better training to child safety specialists who will conduct field investigations. One option is to use existing community college law enforcement programs.
While Flanagan's team detailed out what happened, it will be some time before the public finds out exactly who was responsible for shelving those thousands of calls to the agency without even the barest follow-up despite state laws to the contrary.
That side of the problem is being investigated by the Department of Public Safety. DPS spokesman Bart Graves said he could not say when that inquiry will be completed.
More like this story