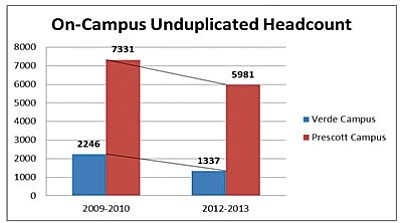 Originally Published: July 2, 2014 7:27 a.m.
Online classes have been chipping away at in-class enrollment for about five years, and Yavapai College is looking to increase foot traffic through hands-on programs and community education.
Clarkdale campus Dean James Perey said the national upward trend for online classes shows students want education on their own time, not in strictly scheduled blocks.
"The age of reaching out to a broader audience with brick and mortar, it's not cost effective," he said.
Online classes really started growing about seven years ago, Perey said.
The most recent economic downturn coincides with an overall push for online learning platforms. Before then, it wasn't "robust," he said.
Online Verde student enrollment went from 34 percent in 2010 to 47 percent in 2014, according to Yavapai College director of institutional effectiveness and research Tom Hughes.
The Prescott campus online enrollment went from 27 to 40 percent during that same time period.
As online numbers rise, in-class full-time enrollment has fallen four years consecutively. Growth rates for the past four years are -3.58 and -1.13 percent respectively.
Growing programs
Perey said the Verde campus has room to grow in terms of in-person enrollment. He said the fine arts, nursing and viticulture and enology programs are the main draws.
Art courses in the G building at the Verde campus have seen a big drop, an area that the college will focus on growing in the next couple years, Perey said.
"We want to provide those opportunities, and what can we do to target specific areas to increase enrollment in those," he said.
The remainder fall under community education and general education. Course load is also a factor. With community education, many students do not meet the full-time equivalent of 15 credit hours a semester.
"Yavapai County is double the national average for retirees," Perey said. "When I look at the culture or when you look at the health of a campus or a site, you have to consider that."
About 30 percent of high school graduates in Yavapai County attend the college, a stable contributor to general education enrollment.
Growth comes from program areas, Perey said, and hands-on classes will fill and utilize campus space.
"For instance, viticulture and enology, based on numbers last year, we're up 35 to 40 percent," he said. "Besides nursing that was launched probably about 10 years ago, the first other program that's been built on this campus is viticulture and enology.
"And we're seeing an increase then in that enrollment."
While every campus has seen a drop in enrollment due to online classes, specific programs like the Southwest Wine Center and Prescott's career and technology education have grown.
Hands-on classes add in-class enrollment, but the college's 10-year plan would likely establish an allied medical center in Prescott, eventually phasing out the Verde campus nursing classes.
"There are a lot of things that need to happen in order for the institution to move forward with an allied health center," Perey said. "And let's be honest, there could always be a possibility that does not happen."
Demographic barriers
Hughes said about 75 percent of the college's population works full or part-time.
"So already, that's a barrier to getting into a classroom," he said.
This high percentage of working students is likely not on campus from 9 a.m. to 5 p.m. each day of the week, which shifts in-person traffic to evenings. Some students schedule classes for one or two days a week.
"Something that is pretty unique to Yavapai College and, again, talks to our population, about 20 percent of our students are full time, 80 percent are part time," Hughes said. "Nationally, it's more of a 43-57 type of balance, so we have a lot of part-time students."
This trend is nationwide, but the Verde Valley's unique demographic adds elements like poverty and a high retired community to the college's decision making.
"Normally it's a time issue, or what we call a life issue," Perey said. "They have kids, they can't afford a sitter, they're working full time, there's no way they could take a class or get a degree unless it's in an online format."
The college donates more than $100,000 yearly in foregone tuition to dual enrollment high school students, almost all of which is offered face to face. Dual enrollment on both the east and west sides of the county have increased by 40 and 27 percent respectively, according to Hughes' numbers.
Hughes said these kids are "a little more likely," by about a handful of percentage points, to attend Yavapai College as students.
"And those are the numbers coming to Yavapai," Hughes said. "There are probably greater numbers from those schools too that are going on and choosing other institutions."
Perey said that was the goal in offering dual enrollment.
"You set that spark as soon as you can, knowing that they're competent to take college classes, and then you provide that mechanism so that they would roll up into certificate and degree areas and then complete it," Perey said.
Most Yavapai College students qualify for federal aid, and the "impetus is to get students excited and realize that college is an opportunity for you if you choose to go in this direction," Perey said.
Whereas schools used to simply compete for students in their own geographic area, Perey said this online shift creates competition nationwide. Students "swirl" general education classes together, taking an online course at more than one college.
"We've seen a shift, then, of students," he said. "This is nationwide, not just in Yavapai County or Arizona. Students (are) gravitating."
The struggle is balancing online with maintaining and, Perey said, even increasing enrollments and face-to-face classes.
High school requirements are expanding to include at least one online class, Perey said. Younger students are becoming more tech-savvy, and adult learners crave the flexibility of online.
"Somebody who wants to retool but has a family, is working full-time, to take face-to-face classes is very difficult," he said. "Online is very attractive to that student population."
Construction woes
The college recently spent $15 million to renovate its Verde campus, adding a pavilion and other campus upgrades. Hughes said this impacted enrollment as well.
"We saw a precipitous drop," he said. "Some of that was just the construction and the hassle of things."
The college moved completely off campus for the summer of 2012, and was back in three days to start classes that fall. Enrollment did happen to go up by 1.6 percent that year compared to 2009-2010.
With the campus now open, the college can start to grow program areas and use its new space.
"It's a long-term investment," Hughes said. "You see people start to come back."
Follow the reporter on Twitter @ymgonzal and Instagram @VerdeValleyNews
More like this story