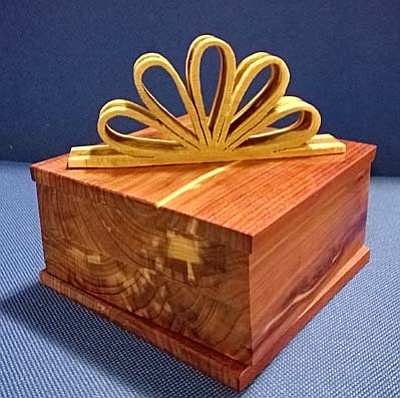 Originally Published: July 6, 2014 7:50 a.m.
CAMP VERDE - Nobody who knows Linda Callahan would call her a "girly-girl."
"I'm not into jewelry," the Camp Verde resident said. "I would rather have a power tool than a diamond."
With her husband Butch at a tool shop in Prescott last December, Linda spotted a scroll saw.
"That would be pretty cool to have," Linda told Butch.
Butch got the hint. He and Linda have been married longer than they haven't been married.
Butch bought the scroll saw for Linda.
"I always wanted to do woodwork," Linda recalled. "Once I started, it was fun. And I was addicted."
Linda had never thought about being an artist. Can't draw. Can't paint. Can't sculpt.
But she took to woodwork. And it took to her.
"It's not like I had to try to be good," Linda said. "It was kind of natural. It just came to me. And I love the challenge of it."
With barely six months experience, Linda has finely crafted woodwork on display at Camp Verde Eye Care, where she works as office manager. Linda's woodwork can also be seen at Edward Jones and Verde Vapes in Camp Verde, as well as the Clarkdale Caboose Gift Shop.
Said Verde Vapes partner Debbie Barber, "it's fascinating to me that people can create stuff like that. I think Linda's work is beautiful, delicate and intricate. She's so talented."
Earlier this year, Linda sold a few pieces. She remembers her first sale, a plaque with the design of an eagle's head.
"It was unbelievable to me that somebody would pay for something I made," she said. "I would love to be able to sell my stuff, but I've told Butch that I don't want this to become a job. Because that would take the fun out of it."
Callahan describes a scroll saw as a "very delicate saw that can do precise cuts."
"The blade is about the size of a prong of a fork," she said. "It can break easily."
With the small blade, Callahan enjoys making welcome signs, cedar boxes, humming birds, bowls, anything that strikes her fancy.
"It's really easy to do, once you get the hang of it," she said. "But you have to be patient to do it. There's a lot of time involved. I think that's another reason I've improved. Butch has been so supportive. I don't think I would have been able to do this without his support. He puts up with me being in my shop for a long time. He checks up on me, makes sure I haven't cut off a finger."
Butch said it's "amazing" how well Linda has done with her woodworking in such a short amount of time.
"I'm proud of her," he said. "She does some beautiful work. And she loves doing it. It's really cool to watch her."
-- Follow Bill Helm on Twitter @BillHelm42 and Instagram @VerdeValleyNews