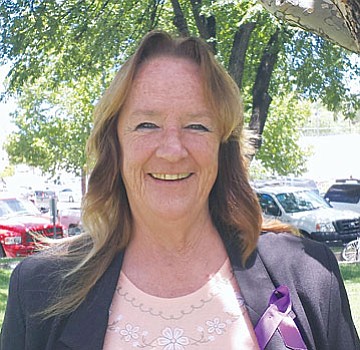 Originally Published: July 8, 2014 1:44 p.m.
PRESCOTT -- Two candidates, both Republicans, are running for the post of Yavapai Clerk of the Superior Court. Donna McQuality already works in the Prescott offices of the Court Clerk as Court Services Supervisor, administering the Prescott Courtroom Clerks and the Appeals and Exhibit Clerk.
McQuality says the court system runs very smoothly, today. Former Clerk Sandy Markham, who passed away while in office, was "very hands on" having worked her way to the top through the system over 20 years.
Born and raised in Wisconsin, McQuality originally worked as a legal secretary for 10 years in a private law office there. She moved to Yavapai County in 1980 and became a stay at home mom for her son.McQuality worked for a period as a bus driver, before returning to the legal field in the Prescott law offices of Murphy, Lutey, Schmitt & Beck, at a time during which she was also elected to the Chino Valley School Board.
McQuality became a courtroom clerk in Yavapai County in 2002 and by 2007 was promoted to her current Supervisor position. She is a Certified Court Manager and will soon receive her certificate as a Court Executive.
The court offices in Prescott and Camp Verde are about the same, except that volume is about double in Prescott compared with Camp Verde. The Camp Verde office also does not have a financial department.
McQuality says, if elected to the Court Clerk's post, she could hit the ground running, since she would not need to learn the ropes of the office. She has worked with the complicated Ajax Court Management System almost since it was first installed and through its modifications.
Statutorily, the office is required to report the disposition of a case in a timely fashion. Five years ago, during her first survey, the office achieved a score of 97 percent. "But, I wasn't happy with that," said McQuality "In a subsequent survey we scored at 100 percent. In a recent newsletter, DPS said Yavapai County had the highest reporting score of any other Arizona county. I am proud of that."
McQuality says there is nothing that needs changing in the Clerk's office, "not at this time."
McQuality is a member of the Republican woman of Prescott.
More like this story