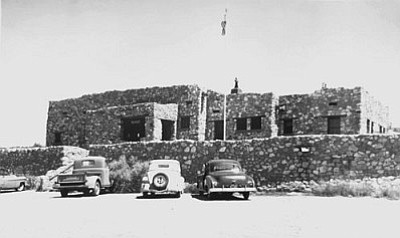 Originally Published: July 22, 2014 1:25 p.m.
CLARKDALE - The ancient Sinagua culture pueblo of Tuzigoot, near today's Clarkdale was proclaimed a national monument in 1939, and 75 years later park employees are celebrating with a fee-free open house Friday, July 25, from 8 a.m. to 5 p.m.
The site now known as Tuzigoot was excavated from December 1933 through June 1934 by a team of graduate students in anthropology from the University of Arizona. The purpose of the excavation was to improve scientific knowledge of the Native people who lived in the area before European contact, share this information through published reports and better interpretation, and develop Tuzigoot as a local attraction.
In 1933, permission to excavate the site had been granted by the private landowner, the United Verde Mining Company in Jerome. During that time, Grace Sparkes of Prescott, the secretary of the Yavapai County Chamber of Commerce, worked tirelessly to develop projects funded by federal work relief programs. Many of her local accomplishments are visible today, including extensive improvements to historic Highway 89 near Tuzigoot and other areas.
Supported by a 1933 Federal Emergency Recovery Act (FERA) grant, University students Edward Spicer and Louis Caywood hired 50 local workers who had lost employment at area mines, the smelter, and other occupations impacted by the 1929 stock market crash and the subsequent Great Depression. When the FERA grant funding ended in early 1934, the crew used a Civil Works Administration grant to complete the project at a total cost of $27,575.
Sparkes and other community leaders believed a museum designed to house and interpret artifacts excavated from Tuzigoot would bolster tourism and the local economy. Additional WPA and FERA grants were secured to build a museum, stabilize the site, and clean and reassemble many of the artifacts that had been excavated, including 150 ceramic bowls and ollas. With another grant secured by Sparkes, the project also employed several local women and others who were unable to labor on the excavation site.
The new museum to interpret Tuzigoot and its people was designed by William Uren of Clarkdale and constructed of stones from the pueblo, Ponderosa pine timbers from Munds Park, and Arizona cypress crossbeams from Sedona. The solid walnut display cases were hand-crafted by the manual arts and woodworking classes at the Clarkdale High School. Publications were written to engage the public and showcase the many accomplishments of the Native people who lived at Tuzigoot.
After completion of the visitor center in 1935-36, Tuzigoot was considered for national monument status partially because of the extensive scientific report written by archaeologists Spicer and Caywood. This report qualified Tuzigoot to be called a "type site" for its period, providing a comparative collection for other pueblos occupied during the same time.
Another campaigner for elevating the site of Tuzigoot to national monument status was Southwestern National Monuments Superintendent Frank Pinkley. The United Verde Copper Company was sold to Phelps Dodge in 1935, and community efforts shifted to make Tuzigoot a national monument under the umbrella of the National Park Service.
The site of Tuzigoot, the administration and museum building, and approximately 8 acres of land were deeded by Phelps Dodge to School District 29 in September, 1935. Phelps Dodge added more acreage to the future monument in 1937. School District Superintendent William Uren reported at that time that museum funds were running out, and he requested an evaluation of how the site could be funded.
With funding to keep Tuzigoot in operation disappearing, Senate President Paul Keefe introduced Arizona Senate Bill 121 in February 1939 as an emergency measure to deed the school district property to the United States. The legislation went into effect immediately, and with all discrepancies resolved, Department of the Interior officials began to reevaluate the situation.
Interior Secretary Harold Ickes presented the report for consideration to President Franklin D. Roosevelt who signed a proclamation on July 25, 1939 establishing Tuzigoot as the nation's 27th national monument.
The Tuzigoot staff will be scheduling various special events through December in honor of the 75th anniversary observance. All fees will be waived on July 25, 2014, in recognition of the proclamation, and longtime park rangers John Reid and Skip Larson will be on hand to answer questions about the history of the area. The park will be open regular hours, 8 a.m. to 5 p.m.
For additional information call Park Ranger John Reid at 928-634-5564.