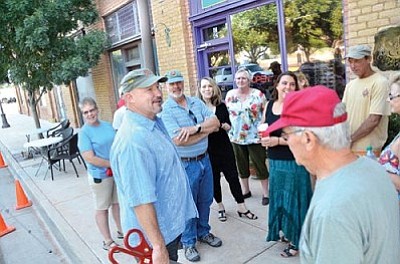 Originally Published: July 29, 2014 5:03 p.m.
CLARKDALE - Town officials and sandaled spectators crowded around the new Verde River Adventure Center storefront last week to see the ribbon cut on its doors.
Richard Lynch opened the business seven years ago, and recently moved from its Camp Verde office up to Clarkdale. Town leadership worked for years to make it possible for him to make the move, he said.
"As soon as I saw that they had secured the land and wanted an outfitter up here, we thought, this is a great opportunity for us to be on the ground floor of this," Lynch said.
The business still operates in Camp Verde, but the new Clarkdale location is where the focus is.
"Up here, there's a lot of energy with Jerome, Old Town Cottonwood's just around the corner, and all the things happening in Clarkdale and Sedona," he said. "Being located here, we're closer to a lot of activity, and activity breeds activity."
This portion of the Verde River is also upstream from a lot of diversions and ditches, Lynch said, so the river level is high enough to keep trips scheduled late into the summer season.
"Down in Verde, we would not have been boating in June, it was that low," he said.
The ability to have a cafe on one half of the Clarkdale office is another benefit to his new location. Customers used to come into the office in Camp Verde a little early to check in, and then go up the road to a nearby coffee shop for breakfast.
The adventure center's cafe sells burritos, sandwiches, coffee and other snacks for a few dollars.
"I came around the corner when we were getting ready to move up here and I saw the for sale sign," he said. "We didn't plan on this, but we said, we can do it."
Manager Tracie Johnson said the adventure center offers river trips, kayaking, tubing, and tube tracking, which is a comfier tube that has a backrest and a paddle.
"It's a little more relaxing," she said of the tube trackers. "You can motivate yourself down the river if you want to, or you can just float."
She said basic pricing, including taxes and fees, is about $80 per adult. Children aged 3-12 need to be in a kayak with an adult.
The adventure center runs a shuttle between the two locations, and offers a lift to private boaters and tubers who want a ride from Tuzi-RAP back up to Tapco. The town of Clarkdale suggests a $5 donation for the recreational use of the site, a fee that is built into Verde River Adventure Center's pricing.
The rest of Lynch's operation is in a "boat house" located in Lower Town. Formerly the Rio Grande Oil Co., the space houses all of the equipment needed for the various float trips while also functioning as a clubhouse of sorts for the employees.
Having a place where guides and workers can relax over a beer at the end of the day builds camaraderie, Lynch said. Comfy chairs line the deck where the train used to pull up to deliver its oil, and a trio of showers are going up just outside the back of the building.
Lynch said he first came across the Verde Valley when he was biking from Fairbanks, Alaska, to Tierra del Fuego.
"I was headed through here and my bike got stolen, so I took that as a sign," he said.
He started working as an adventure guide shortly after, and decided he wanted to make his home in one of the Southwest's many resort-like small towns.
"This whole Verde River valley has everything, and nobody's here," he said. "So, you're not coming into the game at the end. You're coming in at the beginning and you're able to create something right off the bat that nobody else has done before."
Find out more at the adventure center's website, www.verderiveradventurecenter.com, or storefront located along Tenth Street near Main.
Follow the reporter on Twitter @ymgonzal and Instagram @VerdeValleyNews
More like this story