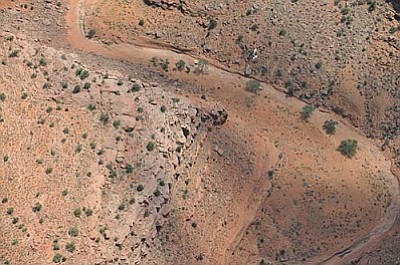 Originally Published: June 23, 2014 4:47 p.m.
A small aircraft reported missing after taking off from the Page airport Friday was found Sunday, apparently crashing in a remote area of the Navajo Nation. Both people on board were dead.
The plane reportedly left Las Vegas, Nevada, sometime June 20 and landed in Page. It was piloted by 47-year-old Charles Trotter of Liberty, South Carolina, and the passenger was 15-year-old Dakota Jacks from Pickens, South Carolina. They then departed the Page airport around 1:30 p.m. and did not file a flight plan.
The Air Force Rescue Coordination Center (AFRCC) was called in to investigate when the aircraft was reported overdue. The last cell phone contact with the pilot's phone was off a tower at Navajo Mountain shortly after take-off from Page. The AFRCC then contacted the Civil Air Patrol (CAP) Wings from several states, who launched a search Sunday morning across Arizona, Colorado, New Mexico and Utah. A ground search team was deployed to Tuba City from Arizona, and a Communications Team from Colorado was deployed to Page.
At around 1:40 p.m. the CAP Arizona Wing spotted wreckage of a plane in Peach Canyon, which is in a remote desert area. The wreckage matched the description of the missing plane.
Access to the area could only be made by air. The Arizona Department of Public Safety flew Coconino County Sheriff's Office detectives to the site on a Ranger helicopter. The bodies of the deceased were removed and transported to the medical examiner's office in Flagstaff, where official identification is pending.
The cause of the crash will be investigated by the National Transportation Safety Board.