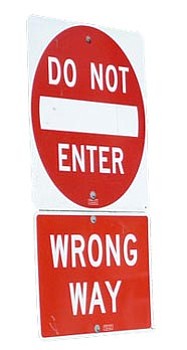 Originally Published: June 25, 2014 11:03 a.m.
PHOENIX - New steps are being taken in the Phoenix area this week in efforts to get the attention of wrong-way drivers before they enter a freeway in the wrong direction.
Although "Do Not Enter" and "Wrong Way" signs already are in place along freeway off-ramps, new and larger versions of such signs will be installed and studied along the exit ramps at six freeway interchanges, according to the Arizona Department of Transportation. In addition, signs will be placed lower on their posts to test if that could help in alerting confused or impaired wrong-way drivers.
Crews also will be adding pavement markers in the shape of large arrows pointing the right way along the exit ramps. Those pavement markers have reflectors to display the color red as a warning to any drivers going the wrong way on the ramps. The reflectors are already in use as part of the lane markings on freeways.
The decision to enhance wrong-way driver signs and markings and observe their effectiveness follows discussions between ADOT, the Arizona Governor's Office of Highway Safety and the state's Department of Public Safety.
In recent weeks, the new signs were produced at ADOT's Sign Shop in Phoenix.
The six interchanges where the wrong-way driver countermeasures are being changed or introduced were identified in an earlier research study as ones with a history of wrong-way vehicle incidents, according to an analysis of 9-1-1 calls made to the Department of Public Safety.
Over the next few days, crews will complete work to add the larger signs and the "wrong-way arrow" pavement markings along 13 off-ramps at the six interchanges, including three exits available to drivers at the Interstate 17 interchange at Carefree Highway (State Route 74).
The changes are being made at the following freeway interchanges:
Interstate 17 and Carefree Highway (State Route 74)
Loop 101 (Agua Fria) and Thunderbird Road
Loop 101 (Agua Fria) and Peoria Avenue
Interstate 10 and Ray Road
Interstate 10 and Wild Horse Pass Boulevard
Interstate 10 and Queen Creek Road (State Route 347)
The larger "Do Not Enter" signs along the ramps are increased in size from 30 by 30 inches to 48 by 48 inches. Beneath them, the new "Wrong Way" signs measure 48 by 36 inches. In an effort to make them even more visible, the bottom of the lower signs will be located three feet from the ground, compared to the seven-foot clearance for wrong-way signs at most of the other state-highway interchanges.
It is not yet known how long the new signs and other changes will be studied before a decision is made about an expansion of the program to other state freeway or highway locations. There are more than 100 traffic interchanges on the Phoenix-area freeway system and more than 475 interchanges along the rest of the state highway system.