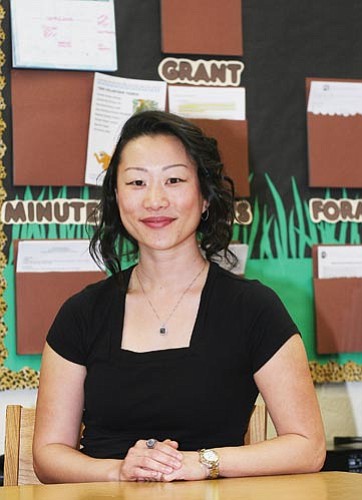 Originally Published: March 8, 2014 2 p.m.
CAMP VERDE - As teen programs manager for the Camp Verde Community Library, Sebra Choe says she has huge ambitions.
"It's overwhelming," Choe says. "But it's exciting at the same time."
Choe says her goals with the library's Teen Advisory Board are "centered around constructive fun, recreational learning, having it be interactive and to accomplish a multitude of things."
"I love that my job is to encourage them to dream about what they want to see happen for teens in this community," she says. "And I have the support from staff and the willingness of the community to make it happen. It really takes a community effort to accomplish that. I'm thrilled with the staff we have here."
Choe also says she wants to see the teen board "grow as individuals and as a team. And I want them to feel empowered to create programs, services and events for teens in Camp Verde."
Choe says her strength as a team builder is one of the reasons her position as board manager is a good fit for her.
"I highly value investing in people," Choe says. "I really believe in collaboration throughout the community, especially for teens. Since we live in a small community, I saw this as a tremendous opportunity to build something that could improve this community, to transform the library into an interactive hub of fun learning activities, becoming a go-to place and a top option for teens in Camp Verde."
On Feb. 19, library Director Kathy Hellman officially introduced Choe to the Camp Verde Town Council. The board then advised the council of its accomplishments, current activities, membership, mission, vision and future goals.
The teen board is "creating and ratifying our bylaws, mission statement, vision, who we want to be," Choe says.
With experience as transcriptionist for Town council, Choe says she treats teen board meetings much like Town council meetings, with an agenda and recommended motions.
"We're trying to develop student leadership and public speaking," Choe says. "I always give teens an opportunity to give a presentation in the meetings."
Besides her work with the Teen Advisory Board, Choe is studying for her Masters of Divinity at Golden Gate Baptist Theological Seminary in Scottsdale.
-- Follow Bill Helm on Twitter @BillHelm42 and Instagram @VerdeValleyNews
More like this story