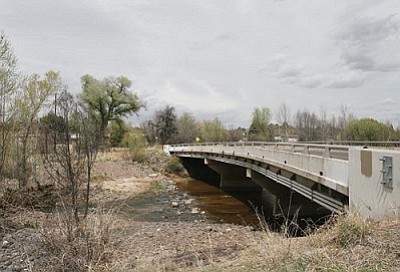 Originally Published: March 27, 2014 3:05 p.m.
LAKE MONTEZUMA - Tim Stotler recently described the soon-to-be-built Wet Beaver Creek pedestrian bridge as "a real grass roots effort."
As assistant county engineer for Yavapai County Public Works, Stotler said Lake Montezuma residents have wanted the bridge built "for the longest time."
Looking forward to a pedestrian bridge running parallel to the Lake Montezuma Bridge, motorists, "won't have to panic every time we come down the hill," said Rimrock resident Kat Ginzel. "It's bad enough having to worry about the javelina and the deer, and to have to worry about the kids, too."
Thanks to the county's regional road project fund - and the Board of Supervisors voting to approve the project - Beaver Creek residents should have their new pedestrian bridge no later than the end of October.
"We've been planning this for years and years," Stotler said. "The primary motivation is to get pedestrians off the [Lake Montezuma] bridge. This bridge will be a real safety improvement."
Talking to a full room at the Beaver Creek Adult Center on March 19, District 2 Supervisor Tom Thurman explained the moment he first realized the importance of a pedestrian bridge that could divert foot traffic from the Wet Beaver Creek Bridge.
"I saw a young woman pushing a stroller on the bridge. I saw cars going by. Vroom! I thought, 'This has got to be fixed,'" Thurman said.
After a presentation by Thurman, Yavapai County Public Works Director Byron Jaspers, Atkins North America and Oliden Engineering, Beaver Creek residents in attendance chose between two prefabricated steel truss structures, Pratt Truss and a Bowstring Truss. By a slim margin, the Wet Beaver Creek pedestrian bridge was chosen to resemble the Bowstring Truss.
At an estimated cost of $485,120, the bridge will measure 160 feet long and between 10 and 12 feet wide. The bridge will be placed about 10 feet west of the Lake Montezuma Bridge. Unlike the Lake Montezuma Bridge, the pedestrian bridge will not be curved, according to Oscar Oliden of Oliden Engineering, the bridge engineering sub-consultant to Atkins.
Oliden spoke of a bridge that will provide many degrees of safety, a bridge that will be a "solution today, as well as into the future," a bridge that will blend into its surroundings, as well as a bridge that could carry small vehicles in case of an emergency.
Despite the work already put in by Atkins and Oliden Engineering, public input was important, Oliden said.
"I got two or three comments [from the general public]," said Oliden. "And that was worth a million dollars."
Construction on the bridge is expected to begin no later than Sept. 1, says Jim Martin, project director, transportation for Atkins North America, the firm chosen by Yavapai County to design the bridge.
-- Follow Bill Helm on Twitter @BillHelm42 and Instagram @VerdeValleyNews
More like this story