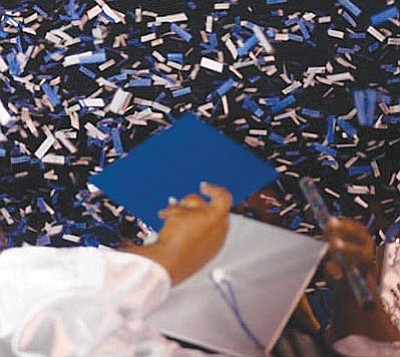 Originally Published: May 22, 2014 1:33 p.m.
As the Camp Verde High School Class of 2014 graduates Friday night, the focus will be on the students.
The main speakers will be from the senior class. Entertainment will also come from the immensely talented graduates.
Ceremonies begin at 7 p.m. at Sam Hammerstrom football field. High School Principal Bob Weir says there will be 82 graduates.
The two main speakers were selected from the top 5 percent of the class. They will be Maddy Showers and Jose Perez. Weir and Dean of Students Mark Showers will also talk to the graduates.
Three special musical numbers are planned by the graduates. Hannah Rumpf and Sylvia Geyer will perform It's Time. Braydon Hackett and Aubrey Alcorn will also duet.
Hannah will then perform a song of her own creation called Here and Now.
The diplomas will be dispensed by members of the Camp Verde Unified School District Governing Board and administration, Beaver Creek school board member Jackie Harshman, VACTE board member Stacey Barker, as well as staff members who have children graduating. That includes Weir himself.
The Class of 2014 includes 22 12-year seniors, student who attended Camp Verde or Beaver Creek since first grade. Of the 82 graduating, 63 have dual-enrollment credits. Weir says the class earned $45,000 in scholarship plus military enrollment.
On the rare chance of heavy rain Friday, ceremonies will be moved into the gym.
--Raquel Hendrickson
More like this story