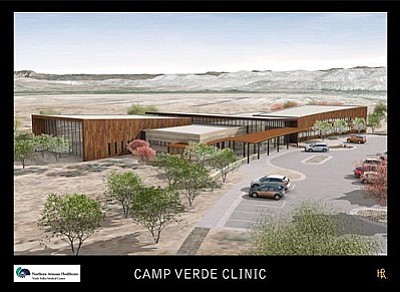 Originally Published: May 22, 2014 4:52 p.m.
On Tuesday, May 13, Northern Arizona Healthcare hosted an open house at Cliff Castle Casino regarding plans for the future Camp Verde campus. About 75 Camp Verde residents attended to hear from Verde Valley Medical Center President and CEO and Northern Arizona Healthcare Executive Vice President Barb Dember; NAH Vice President of Professional and Support Services Rick Peterson; and NAH Vice President of Physician Group and Cardiovascular Services Chris Clarke.
Attendees were encouraged to ask questions and were able to view a scale model of the new facility. Construction begins this fall at the northwest intersection of State Route 260 and Finnie Flat Road, and will likely be complete in fall 2015.
The new building will be approximately 26,000 square feet, and will occupy approximately 11 acres of the 29 owned by VVMC. It will house extended hours primary care, imaging and laboratory facilities, and will offer EntireCare physical therapy and rehabilitation services. Other services will include optical services. In addition, the facility will feature a swimming pool for aqua therapy.
Dember said the facility, which has been in the planning stages since last fall, would likely be "a driver of proper economic growth and development" for the town. The medical center will be built to accommodate expansion if needed in the future.
The project will include extended clinic hours. The primary are clinic will be open during traditional hours - 8 a.m. to 5 p.m. - and from 5 p.m. to 10 p.m. Monday through Friday and 8 a.m. to 8 p.m. Saturday and Sunday.
Northern Arizona Healthcare partnered with HGA, a national planning and design firm, to conduct extensive research, including focus groups with community leaders, physicians, patients and community members to gather feedback on health services needed in Camp Verde and its surrounding communities. The plans presented during the open house were based on that feedback.
More like this story