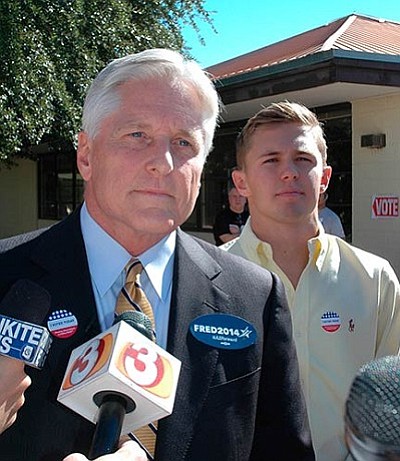 Originally Published: November 4, 2014 9:17 p.m.
PHOENIX -- Republican Doug Ducey coasted to victory in the gubernatorial race Tuesday, fueled by unprecedented spending of outside dollars in attack ads on his Democrat foe.
In his victory speech, Ducey promised to limit the growth of state government by limiting state spending.
"We won't pay our bills with borrowed money,' he told a crowd at the Hyatt Hotel in downtown Phoenix, repeating a theme of his campaign to curb state spending. "And if anyone needs to cut back, it will be government and not the hardworking taxpayers of this state.'
He also promised more choice for parents to send their children to school and promised "policies and outcome that will result in a better quality of life, results that will lead to more jobs and better opportunity for all Arizonans, and results that will pave the path for a better life for our children and our children's children.'
Ducey also credited his win to the work of volunteers and leaders around the state "who spoke on my behalf.'
But Ducey also was the beneficiary of millions of dollars of negative advertising in the most expensive gubernatorial campaign in Arizona history. Ducey said, however, don't blame him: He had nothing to do with all that.
"I want people to judge me by the Ducey 2014 campaign and the amount of money that was put out on my behalf by small-dollar donors,' he said earlier Tuesday. "We think we had a positive, optimistic message that talked about job creation and opportunity for all.'
But the $2.2 million spent by Ducey's campaign was dwarfed by more than $7 million in commercials financed by outsiders, notably the Republican Governors Association. And the message of those ads was decidedly not positive, decrying "lobbyist Fred DuVal' and blaming him for everything from higher university tuition to the release of Puerto Rican terrorists.
And while Ducey is not linking money to his victory, DuVal is.
"I am confident that it was not because we didn't run a good campaign, we didn't connect on issues that matter, but because of the size of the wave of the out-of-state money is just impossible to counter,' he said.
DuVal said he is pleased by his efforts to make the campaign largely about public education and securing adequate funds for schools. And he said he would not have done anything different.
"In another sense, you have a sinking feeling that the democracy as we know it is going into a very bad place,' he said.
Ducey, however, ducked questions about whether those outside ads crossed the line. Instead, he responded that that after the election has settled down he will chat with DuVal.
"I'm looking forward to touching base with him,' Ducey said.
DuVal acknowledged that he essentially put all of his political eggs into a single basket: Education.
The election occurred in the shadow of an Arizona Supreme Court ruling that the Republican-controlled Legislature and Gov. Jan Brewer broke a 2000 voter-approved law when, beginning in 2009, they stopped increasing state aid to schools each year to account for inflation. That sent the case to Maricopa County Superior Court Judge Katherine Cooper to decide how much is owed.
She already has ruled that, going forward, the state has to provide another $236 in aid for each student. That translates out to an immediate $336 million hit.
Now Cooper is debating how much, if any, of the $1 billion not paid in prior years is now due.
Schools have offered to drop that request for missed funds if the state stops fighting that $336 million increase. But Ducey has said he wants to pursue the appeal, questioning whether schools need more money.
That gave DuVal an avenue of attack. But even he admitted Tuesday that attack was, until the very end, pretty lackluster.
"Should I have moved more aggressive rhetoric in my message based around education sooner?' he said. "Maybe.'
And DuVal said there were opportunities even beyond the current lawsuit. He pointed out that Ducey opposed both the temporary one-cent sales tax hike pushed by Brewer and approved by voters in 2010 that helped prevent further cuts to education. And Ducey took the lead two years ago in defeating Proposition 204 which would have imposed a permanent one-cent levy with much of that going to public schools, community colleges and universities.
"He really has demonstrated a consistent resistance to funding K-12 education,' DuVal said of his foe.
There were other issues on which to go after Ducey. One is that he is in favor of making abortion illegal in Arizona except in circumstances like preventing the death of the mother or in cases of rape and incest. DuVal acknowledged he barely raised the issue, mentioning it only in things like mailers.
"I'm confident if we had another $600 K, which is to say, another commercial, that's where we would have gone next,' DuVal said.
Ducey built much of his campaign around a promise that if he was elected he would submit a proposal to lawmakers each year to reduce the state income tax to "as close to zero as possible.'
That brought questions about how such a move was possible, given that the state already is looking at a $500 million deficit for the balance of this fiscal year and $1 billion in red ink next year. And that's even without the possibility a court could order that $1 billion in back state aid to schools.
Ducey has insisted that new tax cuts, on top of hundreds of millions already approved by lawmakers, means "kick starting' the state's languishing economy. And he disputed any contention that cutting state revenues would mean further pain to Arizona schools, even questioning whether restoring school funding to where it would have been had lawmakers not ignored the 2000 law will lead to better schools.
But even Brewer, who signed many of those cuts, made it clear earlier this year the concept of eliminating the income tax makes no sense even though it was supported by Ducey and other Republican gubernatorial hopefuls. She said it would be wrong to have Arizona have virtually its entire budget built on sales taxes.
Now, individual income taxes generate close to $3.9 billion a year out of the state's $8.7 billion in ongoing revenues. Add corporate income taxes and the total tops $4.4 billion - $200 million more than Arizona collects in sales taxes.
"I think that you need a balance," she said in a June interview.
Beyond that, Brewer said it's an illusion to sell the idea that eliminating the state income tax somehow would mean overall lower taxes. She said the needs remain.
More like this story