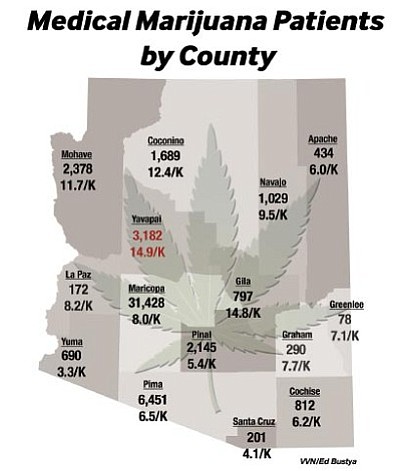 Originally Published: November 13, 2014 3:30 p.m.
PHOENIX -- Just two dozen doctors in Arizona are responsible for making medical marijuana available to more than 34,000 patients according to a new report, with several writing recommendations at the rate of one an hour for every business hour of the day.
The study being released by the Arizona Department of Health Services finds these 24 doctors, most of them naturopaths, wrote close to two-thirds of all the recommendations in the most recent fiscal year.
State Health Director Will Humble said his agency has reported the doctors to their state licensing boards.
But Humble said these were doctors where there was clear evidence that they were not following laws which require them to check a web site run by the Arizona Board of Pharmacy to see whether their patients had prescriptions for other drugs. He does not know whether the boards ever followed up.
Anyway, Humble said he has no independent authority to investigate whether the doctors that are writing out the lion's share of the recommendations are in fact complying with requirements that they adequately examine patients to ensure that marijuana is appropriate.
The new report also finds that the highest concentration of medical marijuana users is in Yavapai County, with close to 1.5 percent of the total population there having a state-issued card entitling them to obtain up to 2 1/2 ounces of marijuana every two weeks. Gila County was a close second.
At the other extreme, just 0.3 percent of Yuma County residents are medical marijuana users.
The 2010 voter-approved law permits doctors to recommend marijuana to patients with certain specified conditions, ranging from cancer and glaucoma to HIV and AIDS. But the vast majority of patients fall into a catch-all category of "severe and chronic pain.'
Of particular interest is the breakdown of who is making the recommendations.
"One physician, a naturopath, over that last fiscal year, did almost 3,000 certifications,' Humble said. `It does make you raise an eyebrow.'
But Humble said the only thing he has to go by are the provisions in the law which was crafted by the Marijuana Policy Institute.
"As long as you follow those recommendations, the way the law's written, it doesn't matter how many you sign,' he said. And Humble said that the ability of his own agency to determine whether a doctor is engaging in unprofessional conduct "is pretty limited.'
"And let's just be honest about that,' he said.
All but four of the two dozen top-recommending doctors were naturopaths.
There were three MDs and one osteopath. He is precluded by law from identifying the doctors; the report does not break down where they work.
Calls to Gail Anthony, director of the Naturopathic Physicians Medical Board asking about the monitoring her agency does of its doctors who recommend marijuana were not returned.
The voter-approved law requires a "full assessment' of the patient's medical history and condition. It also mandates there be a "bona fide physician-patient relationship.'
But the law does not define exactly what that means.
Humble said that simply writing a lot of recommendations -- the precursor to getting that state-issued card -- does not necessarily mean a doctor is breaking the law.
"They've probably become a specialist in this,' he said.
"It's hard to imagine that their patient mix is anything other than people who are seeking a medical marijuana certification,' Humble continued. "So, in a sense, when they see patients day-in and day-out, they could even get better at it.'
Follow Howard Fischer on Twitter at @azcapmedia.